This is your semi-regular thread
in which fat women can share pix, make recommendations for clothes they love, ask questions of other fat women about where to locate certain plus-size items, share info about sales, talk about what jeans cut at what retailer best fits their body shapes, discuss how to accessorize neutral colored suits, share stories of going bare-armed for the first time, brag about a cool fashion moment, whatever.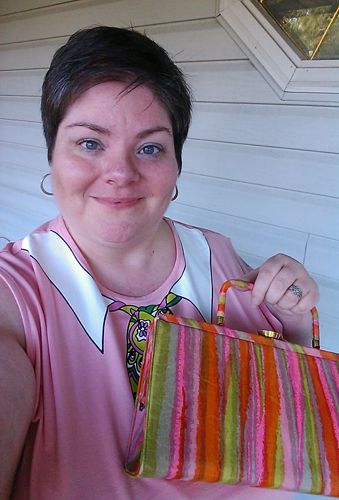 Truly Groovy Top by ModCloth. I told you I love them!
The top I'm wearing in the picture is
currently on sale
for 50% off. Yay!
When mine arrived yesterday, I was delighted to find that the appliqué around the collar smelled like a beach ball. If that's something you imagine you wouldn't find delightful, haha, don't worry—it doesn't linger!
The purse is a vintage piece I picked up for a few bucks somewhere maybe two years ago. I absolutely love the colors, and the handle is one of those on a hinge, so you can swing it out to carry it like a handbag, or hide it inside to carry it like a clutch.
On the bottom, I was wearing skinny-cut (such a stupid description; they aren't skinny jeans when they're on my fat ass!) jeans and
my purple Docs
. With my
misandry helmet
tamed, it made for a cute vintage-homage look.
Anyway! As always, this is a general thread for fat fashion, but, if you need a topic: Do you love experimenting with mixing and matching clothes and accessories from different eras? Or are you a purist, or simply not that adventurous?
Have at it in comments! Please remember to make fat women
of all sizes,
especially women who find themselves regularly sizing out of standard plus-size lines, welcome in this conversation, and pass no judgment on fat women who want to and/or feel obliged,
for any reason,
to
conform to beauty standards
. And please make sure if you're soliciting advice, you make it clear you're seeking suggestions—and please be considerate not to offer unsolicited advice. Sometimes people just need to complain and want solidarity, not solutions.