Gallup's latest polling on abortion makes for a pretty depressing headline:
"Pro-Choice" Americans at Record-Low 41%
.
And, you know, it's not good news that 41% of USians identify as "pro-choice" while 50% identify as "pro-life."
But it's not actually as bad as it sounds, either: "Gallup's
longest-running measure of abortion views
, established in 1975, asks Americans if abortion should be legal in all circumstances, legal only under certain circumstances, or illegal in all circumstances" and that question finds only 20% of respondents who want to fully criminalize abortion.
25% of respondents say abortion should be legal in all circumstances, and 52% say abortion should be legal in some circumstances, meaning 77% of USians still favor keeping abortion legal in some form.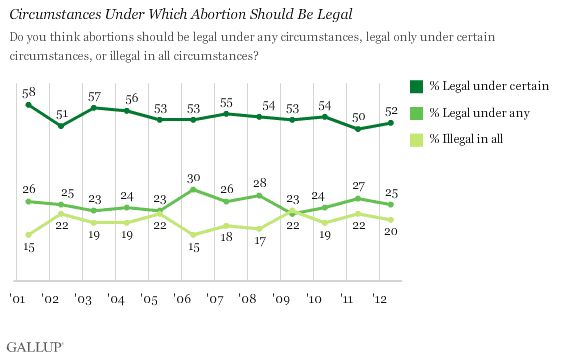 That is overwhelming support for legal abortion, which a headline like "only 41% are pro-choice!" doesn't indicate
at all.
Conservative strategists are extremely good at demonizing language, and they've successfully turned "pro-choice" toxic in much the same way they did "liberal." But they haven't successfully made support for legal abortion unpopular.
We still have a lot of work to do, but we already knew that.