Olivia
By request, after Olivia's origin story
won us a prize
just slightly less exciting than a fra-gee-lay leg lamp, below are the origin stories of the other furry residents of Shakes Manor. Please share your pet origin stories and pix in comments!
[
Commenting Note:
Please note that some people need to purchase pets from breeders for reasons of allergies, and some people will have purchased pets from pet store chains in years before info about puppy and kitten mills was widely known. This should be a fun thread, so I'm requesting no judgment on how pets were acquired.]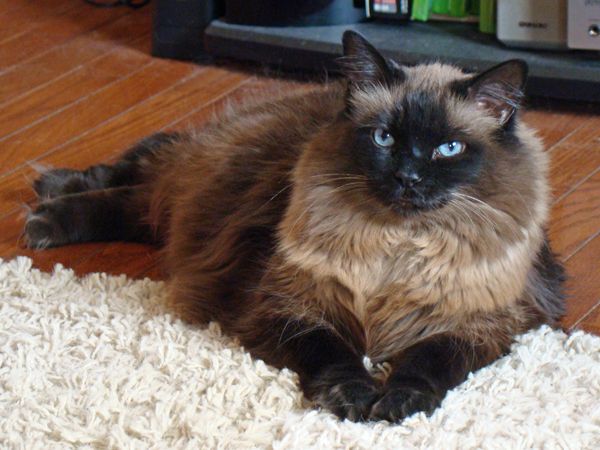 Matilda
In December 2002, six months after having returned/arrived from Scotland, getting married, and getting our first apartment together, Iain and I had been looking for a companion for my then-seven-year-old cat Jimmy (
RIP Big Jim
) for months. We'd tried another adult cat, but it didn't work out. (We did, however, manage to nurse her back to health from a severe respiratory illness, so she was more adoptable after we returned her to the rescue.) It may just have been because she was ill that it didn't work, but I knew Jimmy would take immediately to a kitten or juvenile cat, so we looked for those instead.
It's not totally unusual that the local shelters don't have many kittens in the wintertime, but there were just none for ages. We were both soon to be back at work full-time, and Jim was used to having a companion. (His brother and sister kittehs had gone with my ex.) So, as a last resort, we visited a local pet store which specialized in birds and reptiles but occasionally had kittens brought in by customers.
I remember it was super cold and just a dark, dark night (even though it was probably only 4:30 in the afternoon when we pulled up, lol). We ran into the building, which was filled with the ear-piercing screeches of birds greeting us—and one little basket of four kittens.
Three of them (including Matilda) were identical, long-haired chocolate seal-points, and one had short white fur with the faintest grey tiger stripes. Even though three of them all looked alike, it was obvious that Tils was our girl, because she purred like a lawnmower when we held her even then. We took her home, stopping at K-Mart on the way to get a baby litterbox. While Iain ran in, I held her in my arms, propped against the steering wheel and wrapped in a towel we'd had in the trunk, since the pet store hadn't had a cat carrier. She looked up at me with those big blue eyes, and I said, "Your name is Matilda, isn't it?" And that was that.
Jimmy and Matilda got a new little sister, Olivia, two years later. And it was just the three of them until Jimmy died in 2005. I was so heartbroken—I
still
sometimes think I see him coming up the stairs seven years later—that I never thought I'd get another cat again. Three years passed.
And then Iain suggested maybe we should get another cat.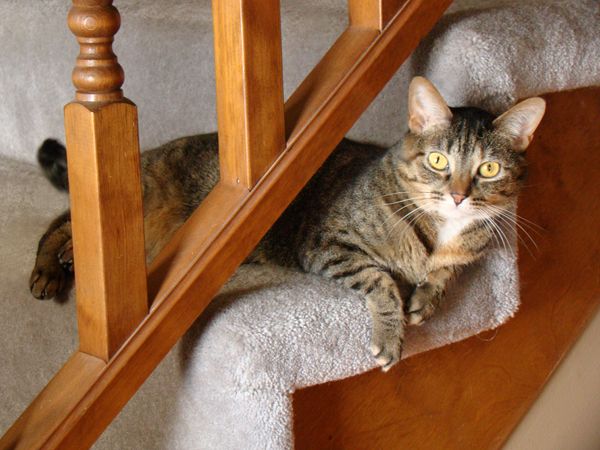 Sophie
I didn't want another cat. All I wanted, at any suggestion of a third cat, was Jimmy back. I missed him so much. (I still do.) Iain gently suggested it a few more times, over the course of a couple of months—and one day I found myself looking at kittens at local shelters on PetFinder. I sort of fell in love with a fluffy white kitten whose face was split straight down the middle into two halves—one grey and one tan. She was a very silly-looking thing. I suggested to Iain we should go meet her.
We went to the shelter that weekend, and while I stood outside her cage, nuzzling her kooky face, I heard Iain say from another part of the room, "This is the one. Right here." And I walked over and, yeah, she was the one. I knew it instantly when I saw her.
We filled out the adoption paperwork and left. The next day, they called to tell us we'd been approved to adopt her, and we
brought her home
. Little Sophs. Who looks just enough
like Jim
that she reminds me of him in the best way, and not so much like him that it breaks my heart.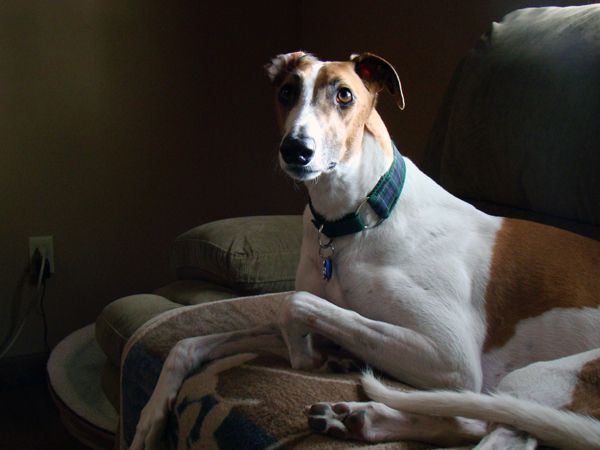 Dudley
A year later, Iain said he wanted to get a dog. I was on board with that idea, but there was a lot of disagreement between us about what kind of dog to get, and from where. Iain was very much of the mind that he wanted a purebred puppy from a breeder, so we'd know what we were getting.
Ahem
. And he wanted a German Shepherd or a Doberman. I was very much of the mind that I did not want a puppy, did not want a dog from a breeder, and did not want either of those breeds, not because I don't love them—I do! I love them both!—but because I didn't feel prepared for that much dog as a first-time owner.
So. We were at an impasse.
One night, I was totally pissed off with Iain about something that I'm sure was super important (lol), and I went out for a drive to cool off. I ended up at PetSmart (or PetCo, or whatever) to buy some treats and toys for the cats, which I knew would get me back in a good and loving headspace.
While I was there, a local greyhound rescue was having an in-store meet-and-greet with a bunch of the adoptable dogs. Greyhounds are such iconic dogs, but I had never seen one in person before, and I found myself returning to that part of the store over and over, just to look at them. They were beautiful—so much taller than I thought they were, so sleek. I finally stopped to pet one, and her fur was so soft. She did that loooooooong greyhound stretch, and then leaned hard against me.
Swoon.
Over the next few days, I researched greyhounds, out of sheer curiosity I have for anything that is new to me. In doing so, I realized a greyhound might be a good fit for us—and they met Iain's criteria of being a purebred dog while also meeting my criteria of being a rescued dog and not a puppy.
I finally mentioned the idea to Iain one day, and he was vaguely intrigued. I knew if I could get him to a meet-and-greet, he'd fall hard. So I asked him to go with me to one, and he reluctantly agreed. We arrived just as the adoption coordinator was arriving with two of her foster dogs. She immediately asked us if we'd mind holding the dogs while she ran to her car for signs, and we eagerly agreed. We took the leashes, and we kneeled down to interact with the dogs. I looked over at Iain and he was looking back at me, grinning excitedly. Mission accomplished.
We got all kinds of books on greyhounds, and Shaker RedSonja encouraged us that it would be a good breed for us. We talked to people at the rescue, and at other rescues. And then one night, after we finally felt like we had sufficiently educated ourselves on the breed, we pulled up their website, and we filled out the application for the dog we had decided we wanted. Only I typed in the wrong name. I applied for the wrong dog.
Dudley was the dog whose racing name I put in by accident. Best whoops ever.
The rest of Dudley's origin story is
here
.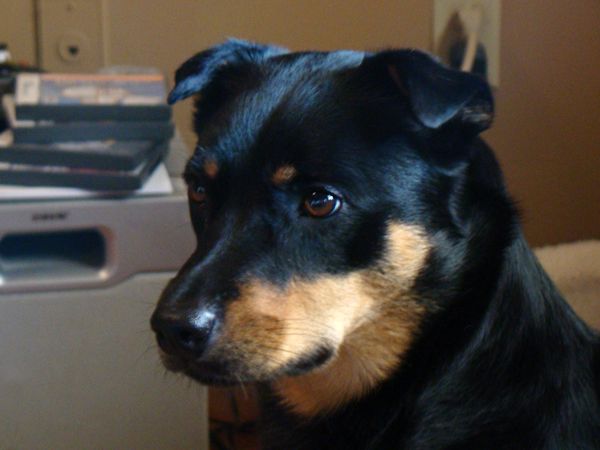 Zelda
And then, last July, a little more than a year after we adopted Dudley, after
much
discussion about whether to get a second dog, and where, and which dog, and after talking to about one million rescues and meeting multiple dogs at both rescues and area pounds, we walked into the same local shelter from which I'd adopted Jimmy sixteen years earlier, and walked out with Zelda, who we thought was a little Rottie-Shar Pei mix but is
actually
a Shar Pei-Australian Cattle Dog-Husky mix.
The rest of her origin story is
here
.
And that is how we came to be we seven.