Zelly, as I have mentioned, does not like having her nails clipped. Wait—let me rephrase. Zelly is the Everest of grooming, who has more maneuvers to remove her paw from a human grasp than are conceivable by mere mortals.
Yesterday, my friend Ms. A, who is a talented and patient groomer, stopped by in her Official Capacity (as opposed to her usual capacity as lovely friend) to try to clip Zelly's nails. No go. No go on clipping, no go on filing, no go on grinding, no go on not freaking the fuck out and piddling on the floor and jumping off the grooming table and hyperventilating like we were trying to murder her.
Ms. A managed to clip a single nail.
Well, that's one more than was clipped before! Progress.
After her terrible ordeal that was definitely the worst thing to happen in the history of dogkind, Zelly went to the water bowl to get a drink. Dudley stood guard over her for a change.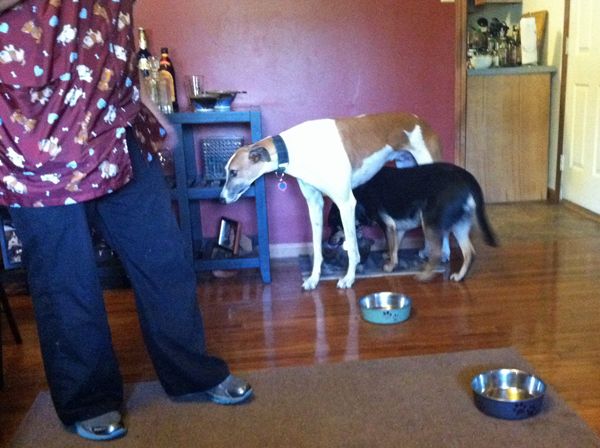 Besties. (With Ms. A.)