by Shaker Teaspoon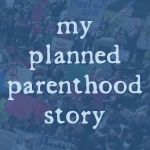 My first experience with Planned Parenthood was as moral support for a friend in college. She had been pressured into unprotected sex by her boyfriend, and her period was late. She came to me in tears and said she didn't know what she was going to do if she was pregnant. I hugged her tightly and told her that she had options, and that we'd talk through them all.
We talked about keeping the baby, we talked about adoption, and we talked about abortion. We talked about whether she wanted to tell her very religious parents, and she looked at me and asked me whether I believed abortion was evil. I told her that I thought any compassionate god would understand and that any soul that might be interrupted by not being born would simply come around again to be born another time, perhaps in another place.
Then I looked up Planned Parenthood in the phone book for her, telling her that she didn't have to make any decision yet, because she didn't even know if she was pregnant. I sat with her and held her hand while she made an appointment, and I went with her when she kept it.
She was so afraid, but she did not want to be pregnant. Her hands trembled as she went with the nurse, and a short while later, she came back out, fighting back tears, and she nodded faintly.
I gave her a hug, and she said that the counselor had an open spot right then, was it okay if she talked to them now? I told her I'd wait as long as she needed, and she entered another office. When she came back out nearly an hour later, she was calm and relaxed.

As we drove back to the dorms, she said they'd gone over everything. They told her about WIC and other services available to her if she decided to stay pregnant, and the services that were available if she also decided to keep the baby. They told her about closed and open adoption agencies, and what birth mothers reported as their experiences with both kinds of adoption. They told her about medical abortion and surgical abortion and when she had access to each type. And when, after all that information, she told them she wanted an abortion, they let her use their phone to make the appointment with a clinic in a neighboring community that offered those services on a sliding scale.

A couple of years later, I got married with one more year before I finished my degree, and we were poor college students together, trying to sort out how to be married people. We had little income and less clue, and I needed well woman exams and access to birth control, and I needed it to be inexpensive, and I needed it to be sensitive to the fact that I'd had little preparation for either family planning or gynecological examination.

I remembered my friend's experience with the local Planned Parenthood clinic, so I called and made an appointment. They explained the procedures and went over the various options for birth control in unabashed detail. We made so little that the exam was free, and the pills I eventually selected were only a couple of dollars each month. I would visit them for two more years before one of us managed to find a job with decent pay and health insurance in another town.

In neither case did Planned Parenthood provide life-saving services, though my friend was certainly provided life-changing services that also spared her greater risk later in an unintended and unwanted pregnancy. The services they provided me allowed me to keep my life in the channels I'd set for it, and that gave me time to plan for the day that I would start trying to have the children my husband and I both wanted, but wanted later. Their services allowed both my friend and me to continue our educations, improving our chances for better jobs, and easier lives, than we could have hoped for had we had our children too early. Neither of us were in any position to both have children and pay for college at that point.

Shutting down Planned Parenthood would hurt, among many other groups of people, young people in college who are trying to give themselves a chance at a career that means something to them and offers them financial independence and security. It would hurt young people who might not yet have a supporting network of family and friends or the means to seek care through more expensive channels.

Among their greatest services is information: about our bodies, about our immediate health, and about our options. Thanks for being there, Planned Parenthood. I hope that if my nieces should ever need your services that you will still be there for them.

Read the rest of the My Planned Parenthood Carnival posts here.