by Shaker Tenya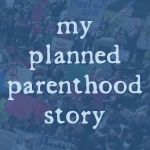 I had moved to upstate NY from Virginia at 17-years-old, to be with a boyfriend when he went to college (I planned to go next year)—I was working at a grocery store in that 'just under full time' status corporations are so fond of and whenever I looked into other forms of coverage it all came back to how I should still be covered by my parents. Which I probably was, but any network physicians were 300 miles away.
I turned to Planned Parenthood. I knew of Planned Parenthood. I knew they wouldn't turn me away for not going to a network provider 300 miles away. I knew they wouldn't turn me away for being 17, either. I went in, and they were friendly and welcoming and checked basic healthcare items like my hemoglobin and blood pressure in addition to my pap and talking with me about the best birth control for me. And they gave me some extra condoms. And then charged on a sliding scale based on my grocery store paycheck for all of this.
In subsequent years I went to PP regularly, had a hilarious conversation with one of the midwives there about paganism while in stirrups, changed birth control, talked about strategies for reducing painful sex, and otherwise have just always trusted the providers there. I never needed abortion services (that PP didn't perform them anyway, they referred to another clinic) but I also knew they would be honest with me if that became a concern.
They never second-guessed my own decisions, when I said I wanted to be sexually active with the boyfriend but wanted to be on birth control, that was okay. When I said I was having trouble remembering my pill every day, they put me on a different birth control that wasn't a daily pill. When I had concerns about sex being painful, they discussed that honestly, instead of getting hung up on how old I was or that I wasn't married.
I don't go to PP anymore, as I moved and got pretty reliable health insurance so I started donating instead. I want that option there for other people, I can't imagine what I would have done if they weren't there.
Read the rest of the My Planned Parenthood Carnival posts here.