by Shaker Talonas (Lt. Chubbins)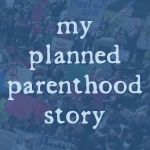 My story is simple and to the point, but it was today, reading all the other stories out there that I realized what a privilege I had and still have.
Great Indoors and I had been dating about 3 months when the condom broke. I've wanted to be a mom for some time, but not right then, not in the situation we were in. Together GI and I made about $14,000 that year. Neither of us had any health insurance. We were on housing assistance and my parents were buying our groceries and other supplies. We simply did not have the funds or ability to care for a child, nor did we have the emotional maturity.
We went to Planned Parenthood and I was able to get a month's supply of contraceptives to take over 5 days, which would do pretty much the same exact thing as the morning after pill. It worked. If Planned Parenthood hadn't been available to us, and I'd been pregnant, we would have kept the child but would have had to go on more government assistance, Medicaid for the pregnancy and birth, CHIP, etc. It would have put a severe strain on the relationship, and I would have wondered if GI was staying around just because he got me knocked up. While we would have been able to manage with that situation, the ability to wait and hold off on children, the availability of contraceptives and morning after pills, gave us the chance to become more mature, better prepared to take care of children later on.
GI and I now have two children we adore, both of which we were able to take care of and offer a loving and stable home to grow up in. We had a very great privilege to be able to choose when to have children, to be able to settle down a bit and prepare to be a family larger than ourselves. Planned Parenthood was available when we needed it, and we are so very lucky for it. Planned Parenthood helped us to be better parents.
Read the rest of the My Planned Parenthood Carnival posts here.