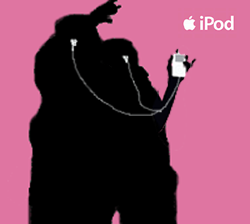 As if you needed
one more reason
to fear a McCain presidency.
I read my e-mails, but I don't write any. I'm a Neanderthal -- I don't even type. I do have the rudimentary capability of calling up some Web sites, like the New York Times online, that sort of stuff. No laptop. No PalmPilot. I prefer my schedule on notecards, which I keep in my jacket pocket.

But my wife has enormous capability. Whenever I want something I ask her to do it. She's just a wizard. She even does my boarding passes -- people can do that now. When we go to the movies, she gets the tickets ahead of time. It's incredible.
Seriously, if this guy thinks that pre-ordering movie tickets online is incredible, I can't imagine the string of irritating techno-president stories through which we'd have to suffer during his administration. Like it isn't bad enough having to read that
Bush
listens to "Dan McLean" on his iPod. I seriously cannot face at least four years of "McCain learns to use a TV remote!" stories.
The hat tip goes to Taegan Goddard at
Political Wire
, who excerpts another bit of the article for his Quote of the Day:
You lose battles in politics. I do get good and angry. Really angry! By God, I'm not going to let them beat me again. I don't like to lose. After the 2000 race for the presidential nomination, I spent at least ten days -- and in many ways it was the most wonderful experience of my life -- wallowing in self-pity... Then I just woke up and said it was time to get over this. The people you represent don't want you this way. You're still their Senator. And besides, America doesn't like sore losers. I also don't hold grudges. It's a waste of time. What's the point? Frankly, the sweetest revenge is success.
Blech, etc.