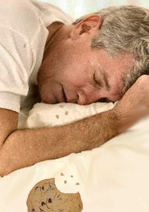 The Heretik
points to a
New York Times article
about the strange side effects of the popular sleep aid, Ambien, including unconscious nighttime food forays.
The sleeping pill Ambien seems to unlock a primitive desire to eat in some patients, according to emerging medical case studies that describe how the drug's users sometimes sleepwalk into their kitchens, claw through their refrigerators like animals and consume calories ranging into the thousands.

The next morning, the night eaters remember nothing about their foraging. But they wake up to find telltale clues: mouthfuls of peanut butter, Tostitos in their beds, kitchen counters overflowing with flour, missing food, and even lighted ovens and stoves. Some are so embarrassed, they delay telling anyone, even as they gain weight.
Totally bizarre. And obviously worrisome, considering the health hazards—not the least of which has to be choking. Sleeping with a mouthful of peanut butter doesn't sound especially safe to me. And with 26 million prescriptions made out for Ambien in America last year alone, the strange reactions among some users, which also include sleep-driving and hallucinations, are worth noting.
In his usual cheeky way, The Heretik also asks, "What else are we sleeping through?"
I think the answer to that is
all too clear
.
(Crossposted at
AlterNet PEEK
.)