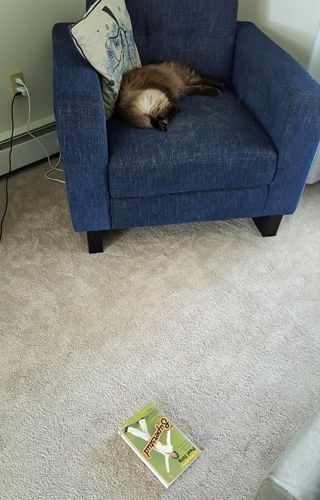 So, after I finished
reading
Paul Feig's
Superstud: Or How I Became a 24-Year-Old Virgin,
it was just lying on my desk, and, one morning, I found it on the floor. So I put it back on my desk. And the next morning, I found it on the floor.
Basically, Matilda has decided that
Superstud
is her new BFF, and I find it in a different place on the floor every morning now.
She has always loved carrying around pieces of paper—especially envelopes—parading around the house with them while mewing proudly. But she's never taken a shine to a book before.
That is the magic of Paul Feig, I guess. A favorite even of feminist cats!
* * *
As always, please feel welcome and encouraged to share pix of the fuzzy, feathered, or scaled members of your family in comments.