One of Sophie's favorite ways of entertaining herself is to chase her own feet around one of the legs of a dining room chair.
Video Description:
Sophie the Torbie Cat hangs out in a spot of sunshine in the dining room, flopped on her side, chasing her own feet around a chair leg in the dining room. She catches a foot and licks it, then goes back to playing, catching and releasing her back feet over and over. At one point, she's almost upside down, with one foot up high on the chair leg. And then she tires herself out and flops on her side, leaning against the leg.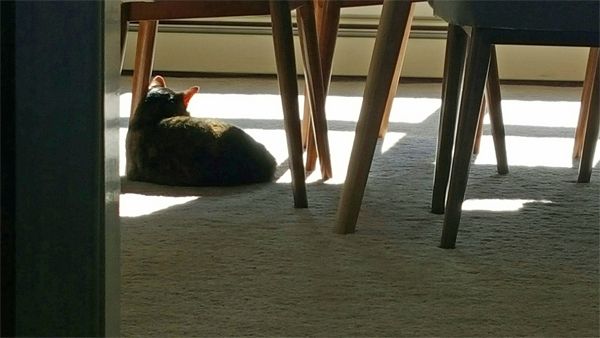 All tuckered out.
As always, please feel welcome and encouraged to share pix of the fuzzy, feathered, or scaled members of your family in comments.