On Valentine's Day, Paul Feig gave us all a gift
by sharing
the first teaser trailer for this summer's
Ghostbusters
reboot! Yayayayayay!
Video Description: The sound of wind over a sweeping view of New York City at dusk. Text onscreen: "WHO." Film of police cars, lights spinning, racing down a New York City street. Text onscreen: "YOU." Film of military personnel running, as a single note begins to crescendo. Text onscreen: "GONNA." Military personnel kneeling in the street with guns. Text onscreen: "CALL?" Ghostbusters logo. Text onscreen: "Trailer premiere 3.3.16."
Omgomgomgomg! SO EXCITED!
In case you're wondering whether a bunch of whiny fanboy babies are still farting about how Paul Feig is ruining their childhoods, the answer is yes!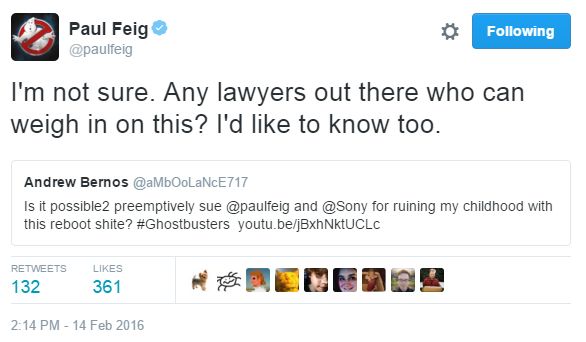 The damages in this case could be staggering.
I hope
Paul Feig's
Heat
money can cover repayment of a Members Only jacket and jizzy Kleenex.