As you may recall, Gwyneth Paltrow's last cookbook was called
It's All Good,
and Deeky bought it for me
for my birthday
, because he is a monster.
Her next cookbook is about to arrive on the reclaimed wood shelves of an artisan bookseller near you, and its title is, naturally,
It's All Easy.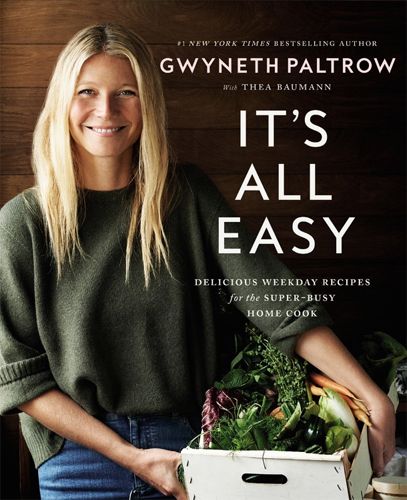 "Delicious weekday recipes for the super-busy home cook." But only weekdays, because any DECENT HUMAN BEING goes out for dinner or attends dinner parties at the homes of celebrity chefs on the weekends.
Granting that I'm obviously
just jealous
, I'll note yet fucking again the gross privilege central to Paltrow's lifestyle brand. Cooking isn't "all easy" for people who can't afford food, and it's not "all easy" for people with disabilities whose particular disabilities limit their capacity to cook, and it's not "all easy" for people who would, by Paltrow's standards, be extra super-
duper
busy by virtue of having to work multiple jobs to survive. Among others.
And, yeah, I get that a lot of cookbooks and recipes are advertised on the premise of being easy, with the understanding they're easy for the people who can and will be cooking them. But "It's All Easy" is more than that. It's all part of this aspirational lifestyle brand built around casually having it all and doing it all with the best of everything—if you're a wealthy, thin, straight, white cis woman.
Doesn't hurt if you're a second-generation celebrity, either.
[H/T to
Kaiser
.]