Disney CEO Bob Iger
has confirmed
that a new
Indiana Jones
film is "coming," which has been rumored for quite some time, and it's likely the series will be a reboot with a new Indy, since Shia LeBeouf has already been used up and discarded by Disney and won't be able to relaunch the franchise as might have been hoped when he was cast in
Indiana Jones and the Kingdom of the Crystal Garbage.
We all know it's going to be Chris Pratt—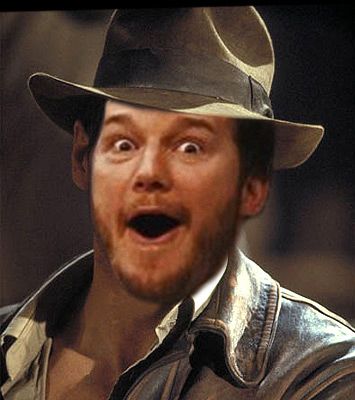 Shakesville: The only place on the internet where you get a photoshop
of Chris Pratt as Indy using AndyDwyer Pratt and not ChiseledHero Pratt.
—but let's pretend there's a chance in hell that it will be someone who isn't Chris Pratt, or another white dude, and do some fantasy casting!
Aaaaaaaaaaaaand go!
I see no reason why John Boyega shouldn't be in the Indiana Jones franchise, too.
I also can't get the idea of Ellen Page as Indiana Jones out of my head. I would also very much like to see her fall in love with Karen Allen. I'm just saying.