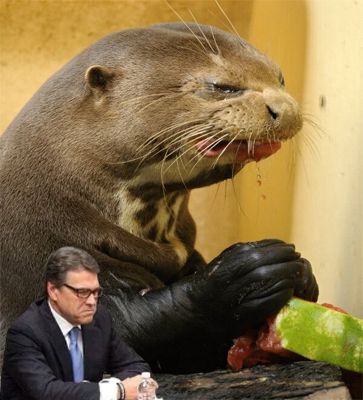 Former Texas Governor Rick Perry
has suspended
his 2016 presidential campaign after failing utterly to show that he has even the most remote chance of being a formidable candidate. By which I mean: Raising no money. He went out with a typically terrific quote:
"We have a tremendous field of candidates — probably the greatest group of men and women," Perry said. "I step aside knowing our party is in good hands, as long as we listen to the grassroots, listen to that cause of conservatism. If we do that, then our party will be in good hands."
The greatest group of men and women. Who are currently fighting it out to see who can be the most racist, misogynistic, queerphobic shitlord of them all.
Goodbye, Rick Perry. Something something door something something ass something something your way out.
And then there were 16.