[Content Note: Racism.]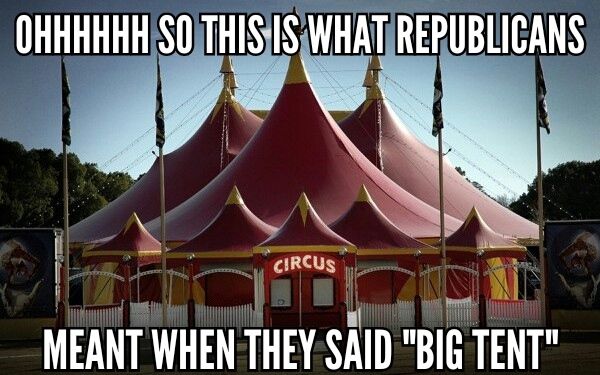 The clown car is getting so packed that soon there won't be any room for any many clowns, and they'll have to relocate to a circus tent. Especially now that Louisiana Governor
Bobby Jindal
is fixing to
make it a baker's dozen
later today:
Louisiana Governor Bobby Jindal is poised to join the crowded race for the Republican presidential nomination with an announcement at a rally outside New Orleans on Wednesday.

...Jindal would be the 13th Republican to enter the race, if he does so at the event at 4 p.m. local time. He is polling near the back of the pack: A May Bloomberg Politics/Des Moines Register Iowa Poll found him tied in second-to-last place behind former New York Governor George Pataki with 1 percent of the vote.
Sounds about right.
In other YOU'VE GOT TO BE KIDDING ME news, New Jersey Governor
Chris Christie
will
reportedly
officially announce that he, too, is running for president as early as next week.
Terrific! I hope we get at least one new presidential candidate per week every week for the next year and that there are fully just sixty-eleven Republican candidates by the Republican convention! Come on, Louie Gohmert! Get busy, Jim Inhofe! What's your hesitation, Mitch Daniels? Get off your ass, George H.W. Bush—you only served one term! Let's get it together, Ghost of Ronald Reagan! EVERYONE MUST RUN!
*falls over*
Anyway. I'm sure all the Republican candidates are up to some fun and amazing garbage, but, ONCE AGAIN, Professor of Bible Bigotry
Mike Huckabee
is today's recipient of the WORST CLOWN IN THE CLOWN CAR AWARD.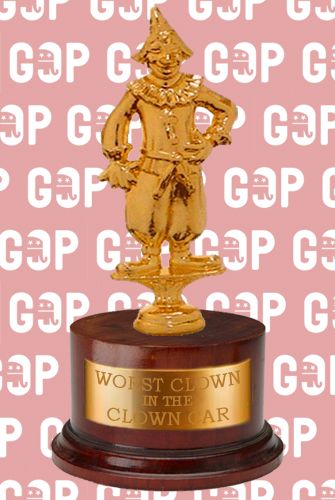 Why? Because this fucking guy actually said
these actual words
from his actual filthy mouth: "I keep hearing people saying we need more conversations about race. Actually we don't need more conversations. What we need is conversions because the reconciliations that changes people is not a racial reconciliation, it's a spiritual reconciliation when people are reconciled to God. When I love God and I know that God created other people regardless of their color as much as he made me, I don't have a problem with racism. It's solved!"
Fuhhhhhhhhhhhhhhhhhhhhhhhhhhhhhhk youuuuuuuuuuuuuuuuuuuuuuuuuuuuuuu.
In other "what the shit did you just say?" news,
Hillary Clinton
used
the occasion of speaking to
a mostly black crowd at Christ the King United Church of Christ near Ferguson, Missouri, where Michael Brown was killed, to say that "all lives matter."
Clinton [said] 'America's struggles with race are far from finished."

"We can't hide from hard truths about race and justice," she said. "We have to name them, own them, and change them."

...She said her mother, abandoned by her parents and forced to work as a teenager, taught her the importance of "kindness along the way from someone who believed she mattered.

"All lives matter," Clinton said.
THUMBS ALL THE WAY DOWN. All the way the fuck down.
So, here is a hard truth about race and justice that we have to name, own, and change: That all lives
should
matter, and matter equally, and wouldn't that be amazing, but they don't. I don't mean in some spiritual or philosophical way in which, yes, all lived human life is equally valuable (although plenty of terrible people disagree on that, too); I mean in the practical, real-world way in which black lives are routinely valued less than white lives.
"All lives matter" isn't a rallying cry for equality and justice; its context is very specific—pushback against black people and their allies saying BLACK LIVES MATTER. "All lives matter" is a silencing strategy to flatten the discourse and deemphasize the specific challenges and particular violent hatred faced by black USians.
If Clinton is using "all lives matter" that way, it's a problem. And if she doesn't understand that "all lives matter" is used that way, it's a problem. No matter how she was using it, it's a problem the end.
In other news, former Republican and current Democratic presidential candidate
Lincoln Chafee
says
: "One of my dorm mates in 10th grade is running for president also,
Jeb Bush
. We had some spirited games of ping-pong and our paths have not crossed much since high school, but I think we still consider each other friends." Great quote! Spirited games of ping-pong. Boy, it sure is a small and amazing world when you're a rich white guy, huh?
Talk about these things! Or don't. Whatever makes you happy. Life is short.