[Content Note: Militarism; police brutality; racism.]
This is a scene from Ferguson, Missouri, last night, where residents were protesting
the police killing
of unarmed black teenager Michael Brown: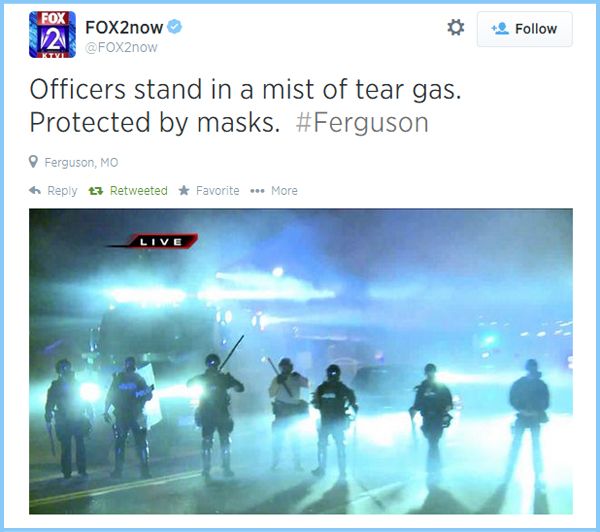 There were
lots
of
images
like
this
one
coming
out of Ferguson last night, as police marched down the streets dressed in riot gear, throwing tear gas and shooting rubber bullets to disperse protesters, and announcing over a loudspeaker, "Return to your home."
The press was told that their presence was endangering police officers. But the press was probably keeping residents safe, given what the police were doing in full view of their cameras.
If it looks like the police turned Ferguson into a war zone, well, that's probably the result of
the increasing militarization
of police forces across the country.
And, as Brian Stuart
points
out
here
, there is a very cynical reason for police showing up to a protest in riot gear with tanks and tear gas: It is to control the narrative, to convey to people outside looking in that such force was warranted by the "rioting" residents of Ferguson.
And it works. Protestors are called rioters. The "rioters" and their "rioting" become the story, instead of a police officer killing an unarmed young man by shooting him eight times or more. The police officer's actions become retroactively justified, because here is "proof" of what sort of community Ferguson is, what kind of people its residents are.
Of course the officer had to shoot that boy. Look at the people in that town. They're animals.
That's the narrative being established. The gross, ugly, racist narrative.
Inviting white people to publicly weigh in, to repeat the word "riot" over and over until it becomes truth.
Across this culture of abuse we are entrained to always empathize with abusers and audit victims, and we fall into these roles so easily, as the public responses to Ferguson underline, again. We retell the story in ways so that we can find excuses for a murderous cop, and find blame for the young man he killed, and for his community.
If this were happening in my community, I'd be yelling in the streets, too.
I don't have any kind of tidy ending here, but I want to make a final observation: One of the biggest lies that is told in this country is how we want victims to use violence to defend themselves. ("Arm yourselves!")
We don't mean it.
The people who say that
don't mean it.
Whether it's
Marissa Alexander
defending herself, or the residents of Ferguson pushing back against state-sanctioned harm, we don't fucking mean it. It is a lie told specifically to defend the rights of abusers to retain and expand
their
right to arm themselves, and to be violent with impunity.
When victims actually push back,
even in nonviolent ways,
that lie is exposed for the rank bullshit it is.
Ferguson has the tank tracks in its streets to prove it.