[Content Note: Discussion of violence and privilege. Spoilers from the TV series
Fargo.
]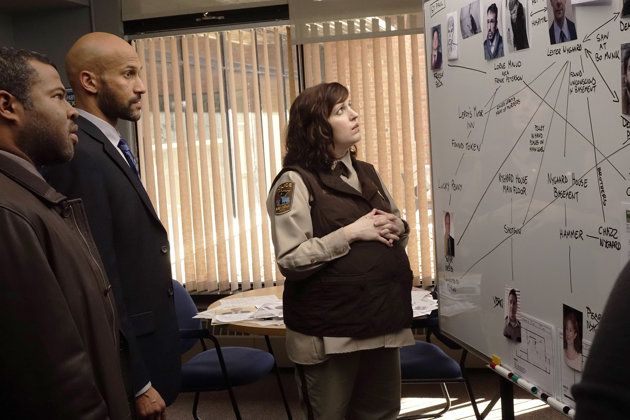 Budge, Pepper, and Solverson.
Deeks and I were texting about
Fargo
again this morning, because THAT SHOW, and I'm sharing our conversation here with his permission...
Deeky: Know what's awesome about Fargo? The heroes are a woman and two men of color.
Liss: YES! I wrote about that
last week
! I was all I DON'T ASK FOR MUCH BUT MAKE THEM THE HEROES! And then it really looked like it's definitely going that way this week!
Deeky: Did you? I missed that!
Liss: BRAINTWINZ! Also? If any white straight men are heroes, it will be an old man (Carradine) and/or a coward (Hanks). There ain't a straight white "alpha male" in sight. And!!! Think of the commentary on how the more "alpha" Lester gets, the more violent and dangerous he becomes!
Deeky: Right? I'm so glad Gus is a mail carrier now.
Liss: Me too. And I love how that was preceded with an earlier scene of his saying he'd always wanted to be a mail carrier.
Deeky: Know how good Fargo is? It's the first movie/TV show where I've not actively hoped for Colin Hanks' character to die.
Liss: This show has made me LIKE Colin Hanks! My phone keeps trying to autocorrect his names to "Colon Hacks."
Deeky: LOL!!! Buzzfeed's Top 25 Colon Hacks. Your Butthole Will Thank You.
Liss: Hahahahaha!!! All's I can say is that I have very high expectations for how this shit's gonna end, and they'd better come through!
Deeky: They will.
Liss: Promise?
Deeky: Yes!
Liss: I LOVED how Budge and Pepper praised Solverson in front of Bob Odenkirk. That was amazing. And promising.
Deeky: Right?
Liss: Right! I did not expect this show to be so subversive! [sends above picture via Twitter] LOOK AT THIS PERFECT PICTURE.
Deeky: Such an incredible moment.