[Content Note: Misogyny; violence. Spoilers from the last several episodes of the TV series
Fargo.
]
I am
still
loving the TV series
Fargo,
loosely based on the film of the same name, and I am
still
really
loving Allison Tolman as Deputy Molly Solverson. Give her all the Emmys! ALL OF THEM.
Also! I am loving the addition of Keegan-Michael Key and Jordan Peele (of
Key & Peele
) as two FBI agents by whom Billy Bob Thornton's creepy Lorne Malvo slips to commit mass murder of a cartel who's got a beef with him.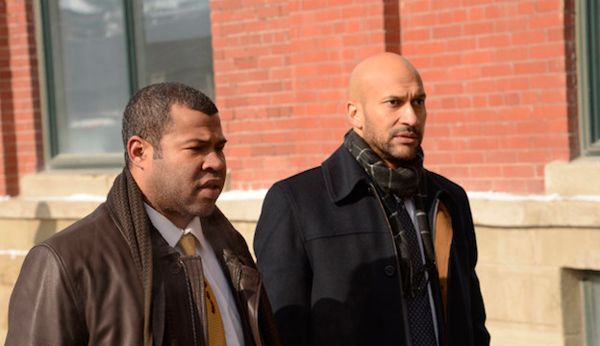 Peele & Key
Following the failure to stop Malvo on their watch, Agents Pepper and Budge are relegated to the file room for an entire year and counting. At the end of the last episode, an errant tennis ball thrown by Agent Pepper knocks down a tackboard from the wall, revealing a picture of Malvo taken at the scene of the crime a year earlier, which Agent Budge had hung on the wall upon their arrival.
Meanwhile, Solverson is repeatedly calling the FBI trying to inform someone, anyone, who will listen that she knows the identity of the man in that picture.
I desperately hope that where we're headed is Solverson, marginalized on her police force, and Agents Pepper and Budge, marginalized within the agency, are going to hook up and catch Malvo—and, with him, the slippery Lester Nygaard—despite the best efforts of their white male professional superiors to keep them from doing their jobs.
Please, Maude: I don't ask for much, but give me this one.
Also: A+ Colin Hanks!
Discuss.