One of the things that makes me
love 2048 so much
is that it reminds me of playing with slide tile puzzles when I was a kid. Remember slide tile puzzles?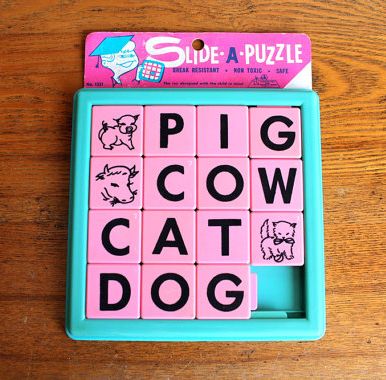 I had about a million of the things, and I would play with them
for hours.
Long after I'd already solved them multiple times, I'd just mix 'em up and solve them again and again.
I can still picture the crumbling cardboard box in my bedroom in which I kept all my slide tile puzzles, my
Jacob's Ladder
, and my
magnetic gyro wheel
. It sat right beside my cardboard box full of "little animals," which was just a tumbling mass of miniature plastic animals with which I used to play "zoo."
Anyway!
I thought it would be fun to have a thread on what toys (or games, or hobbies, or whatever) are nostalgic for you. It doesn't necessarily have to be a mass produced toy, especially since not everyone owned mass produced toys. If what's most nostalgic for you is an old pie tin your granny gave you to play "kitchen" in the backyard, that totally counts.