[Content Note: Fat hatred; eating talk; misogyny.]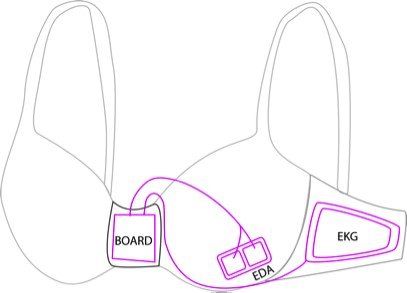 Microsoft's prototype of the stress-detecting emotional eating avoidance bra.
While I can see (sort of) the potential value of a bra measures "heart and skin activity," naturally there's no better purpose than
alerting women when they might start stress-eating
!
The prototype contains removable sensors that monitor heart and skin activity to provide an indication of mood levels.

The aim was to find out if wearable technology could help prevent stress-related over-eating.

Mood data was provided to the wearer via a smartphone app in order to highlight when "emotional eating" was likely to occur.
ALERT! ALERT! YOU ARE STRESSED! DO NOT PUT FOOD IN YOUR FACE! A MOMENT ON THE LIPS A LIFETIME ON THE HIPS! ALERT! ALERT!
Personally, I'm not a stress-eater. (Because I'm a stress-smoker. Whoops!) (That's half a joke.) (I tend to lose my appetite when I'm stressed.) But if I were a stress-eater, I can only imagine how thrilled I'd be to have my phone gleep-glorping at me about THE FATZ when I'm already feeling anxious.