[Content Note: Homophobia; war on agency.]
I guess it was so much fun
when Time did it
, that
The Advocate
decided to name Pope Francis
their Person of the Year
, too. Complete with cover of the Pope with "NO H8" photoshopped onto his cheek.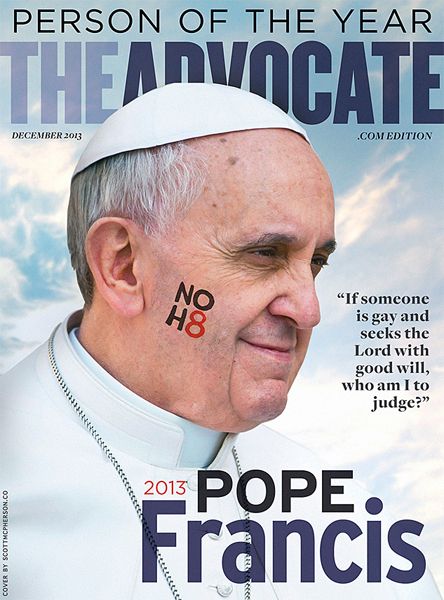 Last night, via text...
Deeky: OMFG the Advocate's Person of the Year.
Liss: Don't tell me it's Dan Savage.
Deeky: WORSE.
Liss: Who?!
Deeky: THE FUCKING POPE!!!!!!!
Liss: Whut. WHUT.
Deeky: I don't even.
Liss: They do realize he actually thinks gay people are going to hell for eternity, right?
Deeky: I would assume they know that but maybe not!
Liss: I mean.
Deeky: I mean. Come on. The Pope?
Liss: Like, if they wanted to be all "edgy" by nominating someone who isn't gay, literally any one of the millions of straight people who actually support gay rights wouldn't been good.
Deeky: LOLOLOL
Liss: Person of the Year: Kevin Mahoney of Rancho Cucamonga, California! He "liked" all his gay brother-in-law's supergay FB posts last year, and most of them were sincere!
Deeky: LOLOLOLOLOLOLOLOLOLOLOL!!!!
Liss: ALL THE POPE
SAID ABOUT GAY STUFF
WAS THE SAME SHIT
GOP OPERATIVES ARE SAYING
!!! DON'T BE SO BLUNT ABOUT HOW PEOPLE ARE TOTALLY GOING TO HELL, MAN! What a goddamn hero!
Deeky: Fuck me. I can't even with this pope.
Liss: EVERYONE LOVES HIM!
Deeky: Macklemore should write a song about him.
Liss: LOL! Macklemore! I could use a little MackleLESS of that guy.
Deeky: LOLOLOL I bet he was runner-up.
* * *
Did no one at
The Advocate,
at any point, suggest that maybe the fact they had to use
the first six paragraphs of their story
to explain why Edie Windsor
isn't
the Person of the Year might be indicative of a problem with their choice?
Edie Windsor, they explain, is merely "a powerful symbol for the many others behind the scenes," so they "couldn't possibly" have chosen her as their Person of the Year. Which, you know, might be a more compelling argument if they hadn't chosen the Pope, pretty much
specifically because
he is perceived to be a symbol of change within a colossal international organization that is one of the key underwriters of global homophobia.
And, in the sense that Pope Francis has marginally shifted the papal rhetoric from "hate the sin; hate the sinner" to "hate the sin; who am I to judge the sinner?", he's deserving of credit. As much as anyone should be credited for a position that
still marginalizes
the queer community.
But is that really enough to ignore that the Pope
upheld Pope Benedict's criticism
of US nuns for their support of same-sex marriage; that he still supports
discrimination against women
(
The Advocate
knows there are queer women, right?); that he
values fetuses
more highly than the people who carry them; that he has nothing to say about Catholic hospitals who refuse to give life-saving abortions, and refuse to dispense emergency contraception to rape victims, and refuse to allow unmarried same-sex partners to visit one another in the hospital?
Not being a total dirtbag
is not supposed to be
the high bar for ally work. It's the bare minimum.
Progressives' fascination with Pope Francis is mystifying. It is beyond the soft bigotry of low expectations. It is an epic failure to
expect more
.
* * *
Liss: Did you see the cover? They photoshopped NO H8 onto his cheek.
Deeky: I know. Because they had to FAKE his support.