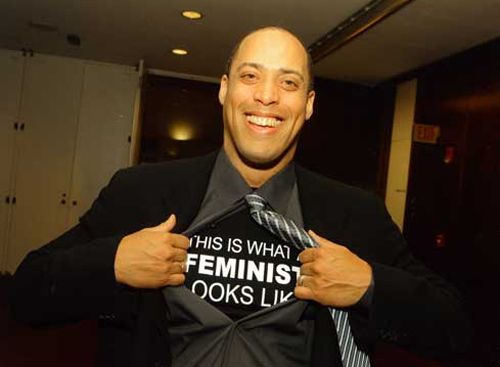 Don McPherson. Image via.
[Content Note: References to violence.]
"What can men do? Men do not just need to stop being violent. The vast majority of men are not violent. But men do need to stop being silent. Calling violence against women, whether street harassment or sexual harassment or rape or murder, a 'women's issue' allows men to ignore it as if we have no responsibility for it or stake in ending it. We all have grandmothers, mothers, sisters, daughters and female friends and colleagues. Our lives are inextricably interwoven; women's issues of safety and equality directly affect our lives as men. Beyond that, women are humans, with the same rights to safety and freedom as men. It is therefore our moral responsibility to not remain silent or passively on the sidelines, but to be actively engaged in confronting this problem in every corner of homes, communities, and societies."
—Former NFL quarterback and current feminist Don McPherson, in an op-ed at CNN inviting men to join in anti-violence advocacy. I encourage you to read
the whole thing
.
This piece means so much to me. The brevity of that statement does not befit the enormity of the emotion behind it. I am so grateful to Don McPherson for writing this piece, for leveraging his platform to speak powerfully and passionately to the issue of violence against women, and for being my ally.
Thank you thank you thank you.
[Related Reading:
Woman's Work
;
The Best Thing You'll Read All Day
;
My Liberation as a Man Is Tied to Your Liberation as a Woman
.]