[Content Note: Guns; violence; terrorism.]
Men armed with rifles walk through Portland to 'educate'
:
Two men carrying assault rifles on their backs said they were simply exercising their Second Amendment right, but police said they scared plenty of people.
Calls started coming in to 911 dispatchers shortly before 2 p.m. Wednesday. Callers said two men with guns strapped to their backs were walking through the area of Southeast Seventh Avenue and Spokane Street in Portland's Sellwood neighborhood.

Officers arrived in the area and contacted both 22-year-old men. They were carrying rifles openly on their backs and were valid concealed handgun license holders in Oregon.

The men told officers they were hoping to educate the public about gun rights.

Officers explained that they were likely to continue generating 911 calls from alarmed people in the area, which would require a police response. Officers reported neither man seemed interested in those concerns.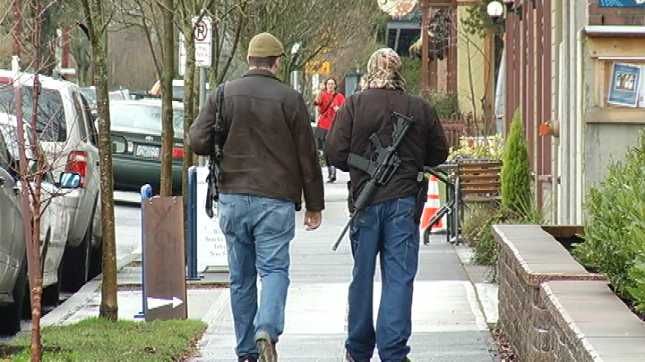 "Educational."
Warren said he hoped people would approach them and talk to them, instead of calling police.

"What they really should do is observe the person to determine if the person is aggressive," he said of seeing someone with a gun in public. "We're not doing anything threatening to anyone."
The vast amounts of privilege it requires to casually assert that people should not be afraid of men strolling down the sidewalk with assault rifles is astounding.
And I find the admonishment to not feel threatened by actual and present deadly weaponry particularly gross coming from people who own that deadly weaponry because they feel threatened by bullshit fantasies of peril.
They invent threats, or imagine that encroachments on their undeserved privilege are a threat that warrants deadly defense, and then have the fucking gall to pretend their paranoia about having to live a life without the precious inoculations of privilege is the same as the real existential threats faced by oppressed peoples.