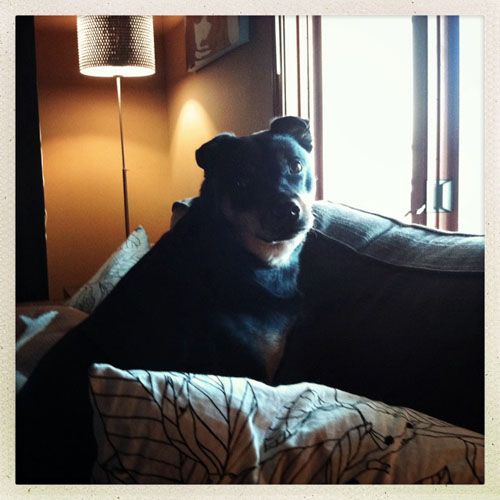 Zelda
If you just want the cute, stop here. If you'd like some animal rescue stuff, read on...
When we were
at the shelter
last weekend, I visited the kennel in which I'd first seen Zelda, then a stray with no name. I remembered kneeling down in front of the kennel, in which this skinny black pup with silly ears was sitting politely and quietly, looking at me hopefully. I remembered extending my closed hand, which she sniffed cautiously, before leaning, hard, against the fenced door, so I could pet her. I remembered the purple lead they brought when I asked if we could walk her, which she was still wearing when we brought her home that day, and which I still have.
I'm not sentimental about many things, but I have that leash and I have Dudley's racing muzzle that still bears his racing name: Mulberry Judd.
It was only when I stopped to take a picture of Zelly's former kennel that I saw there was another little black dog in there, patiently waiting for her home.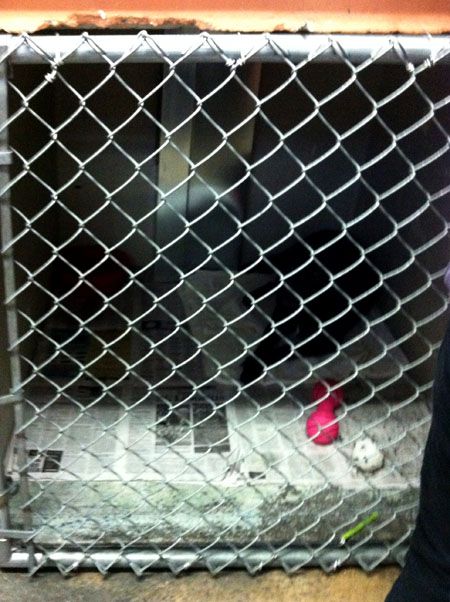 I hate that cage, and I am forever grateful that it exists. May its every occupant find a home where they are as loved as Zelly.
[Related Reading:
Zelda
;
Rescue in the Truest Sense of the Word
;
Mutual Rescue
;
Zelda's Anniversary
;
Worth Saving
;
♥ Big Black Dogs
.]