As you may recall, Deeky collects and saves useless garbage like we're beyond Thunderdome and useless garbage is now a form of currency and he's a garbageaire. Then, instead of throwing it away, he throws pieces of his fancy detritus collection into an envelope and pays money to ship it to me, at which point I put them in plastic treasure chests and put them out by the curb every week to be collected by the "treasure man," who buries them at the "treasure dump" for me for safe keeping.
But not before taking a picture of the bounty so that I can post it, natch.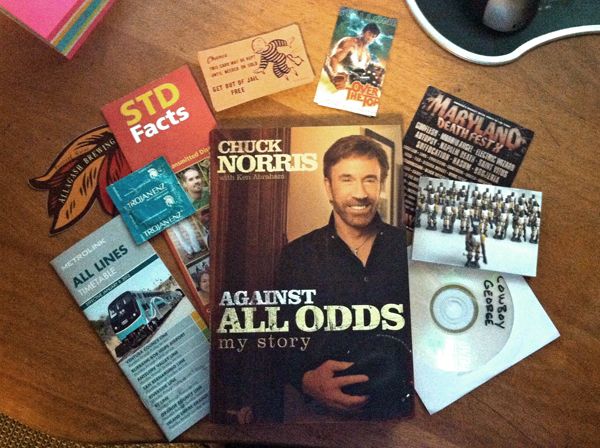 [Click to embiggen.
Clockwise from bottom left: A schedule effective January 9,2012 for the Metrolink; a promotional sticker for Allagash Brewing Company of Portland, Maine; a Trojan-Enz lubricated condom (my preferred brand!) that looks to be about a decade old; a pamphlet on STD Facts; a stack of glossy "Get Out of Jail Free" business cards; a stack of glossy "Over the Top" business cards; a flyer for Maryland Deathfest ("America's biggest metal party of the year!") which took place two months ago; a post-it stack featuring an army of Bossk the Bounty Hunter action figures; a burned DVD labeled "Cowboy George"; and, the pièce de résistance, a hardcover copy of Chuck Norris with Ken Abraham's
Against All Odds: My Story,
which came with a note attached on post-it stationery from the desk of Jim Devlin, Vice President of Finance for GM, that read: "I thought this might make a good replacement for your Bush book! Love, Deeks."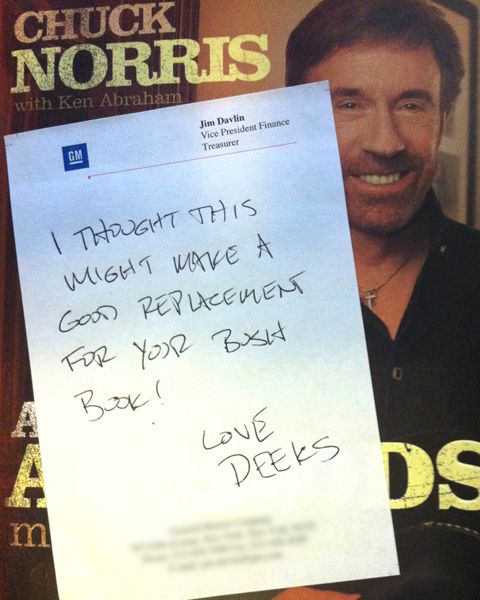 In case you hadn't guessed, Deeky's real identity is not Jim Devlin, Vice President of Finance for GM.
All of which came in a package for which the return address was simply: "DEEKY."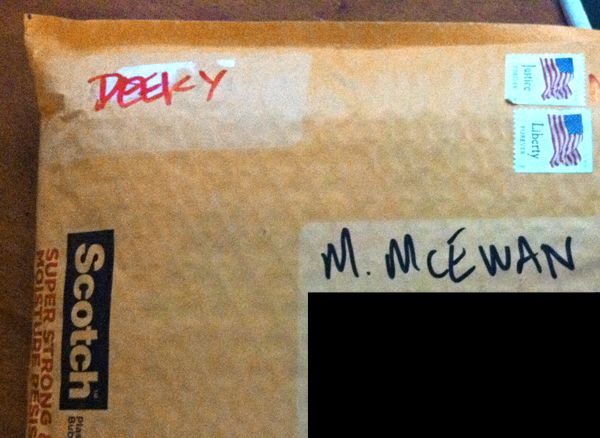 LOL!
Plans:
1. I will definitely do something with the Chuck Norris with Ken Abraham book. I don't know what yet. Watch this space.
2. I will carry around some of the Chance cards with me wherever I go, and the next time someone around me says something ignorant about fatties (FOR EXAMPLE) or immigrants (FOR EXAMPLE), and then realizes I am fat or married to an immigrant, I will hand them one of those cards.
3. The Bossk post-its, which Deeky created for his desk "but didn't realize til they got here that there is NO PLACE TO WRITE ON THEM," which is WHY I LOVE THEM MOST OF ALL, are going with me every time I travel. And I will leave one, mysteriously, wherever I go.