by Shaker BGK Starbuck
[Content Note: Homophobia; Christian Supremacy.]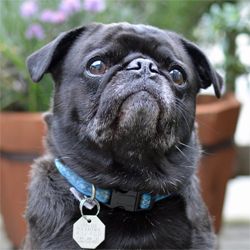 Howdy, Shakers!
This is Starbuck, filling in for Dad-Dad
again
. Things are a bit stressful around Chez BGK because of recent events in Washington State, so I decided to take matters into my own paws, and help write a guest post about the latest round of antigay bigotry.
Back in 2009, Washington Citizens approved Referendum 71, which allowed same-sex partners to register with the sate as Registered Domestic Partners, affording the partnership the same rights and responsibilities as marriage. The law included several provisions to protect religious organizations opposed to marrying same-sex couples.
The Registered Domestic Partnership law was not without flaws. Some in Washington, like the company for which Dad-Dad works, refused to give employees the ability to put their Registered Domestic Partner on their health insurance and other spousal benefits. The court system has had issues with dissolution of registered domestic partnerships, as the new partnerships did not have the case history of divorce, causing difficulty with child custody and spousal support cases. Additionally, the federal benefits of marriage were not given to Registered Domestic Partners.
Back in February, we had people over to watch the Senate and House votes on a Same-Sex Marriage Bill. I remember watching Dad-Dad cry when Gov. Gregoire signed
marriage equality into law for Washington State
. We became citizens of the Seventh State (and D.C.) to allow members of the same-sex to marry. This was great news for all our LGBTQI friends, many of whom, like Dad-Dad, finally felt equal. The law removed many of the problems Registered Domestic Partners were facing in the state. With the passage of the law, many Registered Domestic Partners contemplated a judicial challenge to DOMA, in order to extend the federal benefits of marriage to Same-Sex Washingtonians.
Unfortunately, the same PAC that failed to get the Registered Domestic Partnership law overturned has qualified Referendum 74 to go to the November ballot. This means that the citizens of Washington must vote to approve or disapprove of the law as passed by the legislature and signed by the governor. Now, I'm just a pug, but I don't believe the rights of the minority should be voted on by the majority.
Protect Marriage Washington
, a group one would think would be for expanding the institution of marriage, states: "Marriage as the union of one man and one woman is in the public good. It serves the interests of men and women, of children, and of society itself. The marriage referendum (R-74) that is being qualified by Preserve Marriage Washington for the November 2012 ballot gives voters the opportunity to preserve this special institution." I don't understand how letting same-sex partners marry will do anything but increase the married population. I am not able to find any proof of the same-sex marriage law destroying the institution of marriage, though you can read "The Threat to Marriage" from Protect Marriage Washington
here
. My sniffer detects heteronormativity afoot!
One of the Representatives that opposed the gay marriage law , Matt Shea (R-Eally?)
issued a statement
:
While the bill has been amended to provide narrow exemptions for religious organizations that do not choose to be involved in same-sex ceremonies, it contains nothing to provide the same protections for private businesses that refuse service for these ceremonies on the grounds of religious conscience. That invites massive new lawsuits against photographers, bakers and decorators, tuxedo and wedding dress stores, hotels, caterers and others involved in the wedding industry.

…Finally, marriage between one man and one woman is a long-standing institution in our state, as well as across the nation. Washington State has already provided homosexual couples all the rights, benefits and privileges of married couples. Yet only one-quarter of one percent of the state's population have registered as domestic partners.
My puggy brain isn't able to understand why photographers, bakers, caterers or other private businesses, in the midst of a recession, would want to refuse clients. I also don't understand why a public business would want to discriminate against the LGBTQI community as a matter of religious freedom. Nor do I understand the
Letter from the Alliance Defense Fund
(pdf) urging Christian churches to support the overturning of the same-sex marriage law. It makes the assumption that the
de facto
Christian Position is against allowing same-sex couples to marry, but I'm just a pug and even I know that's not accurate!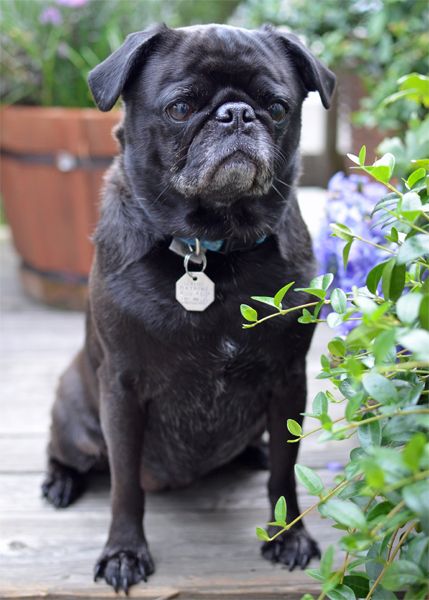 Now that the citizens of Washington State will vote on his civil rights, Dad-Dad believes it can pass. In 2009, Referendum 71 was approved by the voters and the Registered Domestic Partnership Bill was made law. There are higher hopes now because The Public Policy Polling found that
50% [of Washingtonians] would vote to approve the referendum
(pdf) with only 46% disapproving.
If you are eligible to vote in Washington State, please vote to approve
Referendum 74
. If you have friends or family in Washington, and feel inclined, Dad-Dad and I would appreciate asking them to do the same.
Thank you for letting me write to y'all. Now, if you'll excuse me, it's time for me to entertain Dad-Dad for awhile with some tug-of-rope and face kisses.