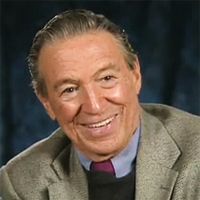 Veteran newsman Mike Wallace
has died
at age 93. CBS, the network at which Wallace was a fixture for decades, remembers Wallace
here
. His
New York Times
obit is
here
. Andy remembers some of Wallace's early work
here
, "an investigation into homosexuality in America hosted by Mike Wallace and aired in 1967. Given the era in which it was produced, it's admirably open-minded: gayfolk, at least male ones, are allowed to speak their pieces freely and at length."
If you knew nothing about Mike Wallace, I would convey him to you by recalling a little interview he gave to the
Boston Globe
in 2005, specifically one question and one answer, which have stuck in my mind all these years:
Q. President George W. Bush has declined to be interviewed by you. What would you ask him if you had the chance?

A. What in the world prepared you to be the commander in chief of the largest superpower in the world? In your background, Mr. President, you apparently were incurious. You didn't want to travel. You knew very little about the military. ... The governor of Texas doesn't have the kind of power that some governors have. ... Why do you think they nominated you? ... Do you think that has anything to do with the fact that the country is so [expletive] up?
Mike Wallace was tenacious. I admire tenacity.
[
Note:
If there are less flattering things to be said about Wallace, they have been excluded because I am unaware of them, not as the result of any deliberate intent to whitewash his life. Please feel welcome to comment on the entirety of his work and life in this thread.]