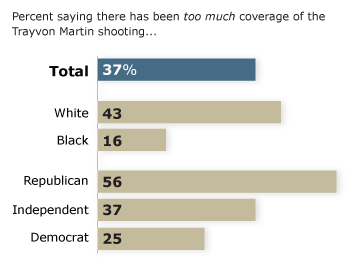 The good news is that 54% of respondents in
Pew's newest poll
think there is the right amount or too little coverage of the case. The bad news is that 37% of respondents think there is too much—and that 37% is disproportionately white and disproportionately Republican.
National concern about vigilantism that stole the life of a young man should not fall along racial and partisan lines. That it does says something profoundly troubling, if not unexpected, about this nation.
Post-racial my fat ass.