55%:
The
percentage
of "all reproductive-age US women [who] lived in a state hostile to abortion rights in 2011, up significantly from 31% in 2000,
according to a new Guttmacher Institute policy analysis
. The increase is the result of a dramatic shift in the abortion policy landscape at the state level over the past decade, including
a record number of abortion restrictions
that were enacted in 2011."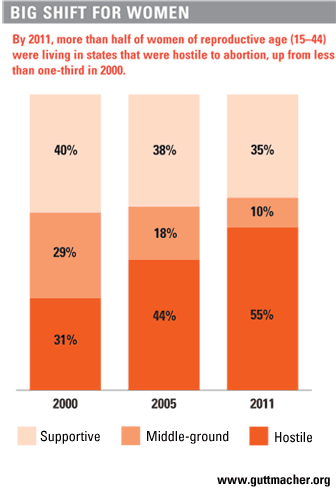 The analysis finds that most states—35 in total—remained in the same category in all three years (click here for a map illustrating the change over time). However, of the 15 states whose abortion policy landscape changed substantially, all became more restrictive.
Welcome to the feminist backlash.
Maybe the fact that reproductive rights advocates and activists have been
raising the red flag about the rightwing's chipping strategy
for years
could finally put paid to the habit of dismissing as crazy! hysterical! bitches! feminist/womanist women and our allies every time we have the unmitigated temerity to ask to be heard on some concern that hasn't made it to the front page of the
New York Times
yet...?
HA HA JUST KIDDING. I'LL SHOW MYSELF OUT.