As you may recall, Deeky collects and saves useless garbage like we're beyond Thunderdome and useless garbage is now a form of currency and he's a garbageaire. Then, instead of throwing it away, he throws pieces of his fancy detritus collection into an envelope and pays money to ship it to me—priority mail, so he can track his garbage treasure's path across the country—at which point I put them in plastic treasure chests and put them out by the curb every week to be collected by the "treasure man," who buries them at the "treasure dump" for me for safe keeping.
But not before taking a picture of it so that I can post it, natch.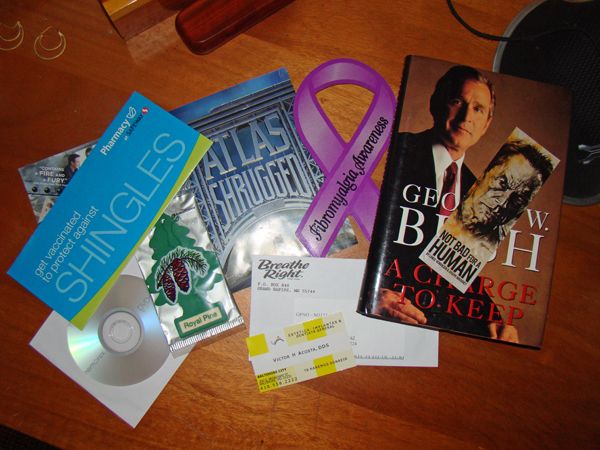 Some of the contents of the latest package of Deeky's Garbage Treasures: A pamphlet exhorting me to "get vaccinated to protect against SHINGLES"; an
Atlas Shrugged
DVD sleeve; a DVD of
The Return of Bruno;
a Royal Pine-scented car freshener; a "Fibromyalgia Awareness" ribbon bumper magnet; and unopened piece of Important Correspondence from Breath Right Nasal Strips; a business card for Dr. Victor H. Acosta, DDS; and a copy of George W. Bush's
A Charge to Keep,
complete with
Not Bad for a Human
bookmark featuring a gritty portrait of Lance Henriksen. Obviously.
Btw, the back cover of
A Charge to Keep
features
the painting
of the same name, which is Mondo Fucko's favorite painting
because he's a narcissistic chowderhead
: "He came to believe that the picture depicted the circuit-riders who spread Methodism across the Alleghenies in the nineteenth century. In other words, the cowboy who looked like Bush was a missionary of his own denomination. Only that is not the title, message, or meaning of the painting. The artist, W.H.D. Koerner, executed it to illustrate a Western short story entitled 'The Slipper Tongue,' published in
The Saturday Evening Post
in 1916. The story is about a smooth-talking horse thief who is caught, and then escapes a lynch mob in the Sand Hills of Nebraska. The illustration depicts the thief fleeing his captors. In the magazine, the illustration bears the caption: 'Had His Start Been Fifteen Minutes Longer He Would Not Have Been Caught.'"
Ah, the Bush years. Good times. By which I mean terrible, terrible times.
I can't wait to read what is sure to be a GREAT book!