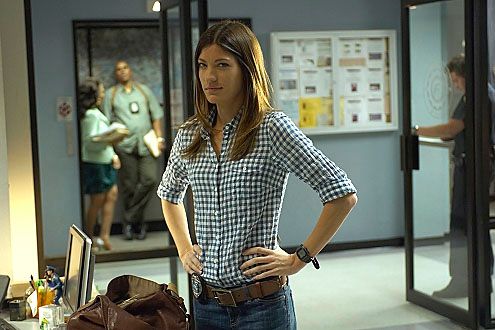 I am really missing our Walking Thread (more than the show? maybe), so I thought we'd do a
Dexter
thread this week, as I know many of the Shakers who watch
The Walking Dead
also watch
Dexter.
Oy, this show. The only reason I still watch it is pictured above. Oh, Jennifer Carpenter, how I wish you had your own show. A different show. That was good.
[Spoiler Alerts from this season below.]
So,
Dexter
has always been problematic, and I'm not even going to go into all the reasons why a social justice-minded person might object to it (or even why a social justice-minded person might like it), because I'm too busy being annoyed by how STUPID it's gotten.
And it's just been renewed for two more seasons! Noooooooooooooooooo! I need closure! I need the endgame to begin already! This show is starting to feel like homework every week! Just get me to the finale! PLEASE!
All right, so I have issues, and I'm going to keep watching this damn show through every last one hundred million serial killers in the Miami Metro area until Dexter is caught or killed or redeemed. NO MATTER HOW MANY TIMES YOU SAY "DARK PASSENGER" YOU WILL NOT DRIVE ME AWAY! But in the interim, I hope I've got some people to lovehate this show with.
Can we start with LaGuerta? They should have named her Rorshach, since she is a totally different person depending on which writer is looking at her. Welp, this week, we need her to be a conniving harpy! Welp, this week we need her to be a feminist mentor! Welp, this week we need her to be ethical! No, unethical! A sexpot! No, a frigid bitch! Listen, I long for complex female characters, but LaGuerta isn't complex: She's a hot mess of wildly inconsistent character development. Lauren Vélez deserves better!
Is Anderson, the transfer from Chicago, ever going to be given anything to do? When he first showed up, I figured he'd be Deb's new love interest, but evidently his only purpose this season was to introduce the word "tableau."
And what is going on with Quinn? Specifically Quinn's mood hair. Uh-oh, Quinn's hair is messy; he must be on a bender. Phew, Quinn's hair is neat; looks like he'll competently do his job today. Oy, this show!
I also feel the need to express my amazement at the never-ending parade of nannies Dexter can find who will work 24/7 and have no lives upon which his ridiculously erratic schedule ever impinges. LUCKY!
Other random grievances: Both forensics interns are psychos? Whut. Whatever happened to the thread about Harry having fucked informants, suggesting that Deb and Dex are half-siblings? That whole thing just went away. Is Deb's grody fantasy an attempt to reintroduce it? Oy, this show. Tom Hanks'
weird little cousin
is no John Lithgow, or maybe he is, but I can't stop thinking about how much
he looks like Woody
. Uncanny! Actually, that's not a grievance. I like him!
There's more, but I don't want to steal all the complaining. Have at it!