[Trigger warning for misogyny; body policing; colorism.]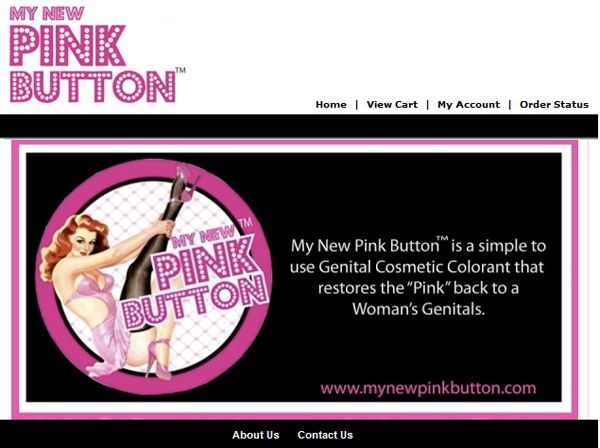 Product Description, from the website (to which I'm not linking, but it's easy enough to find if you're so inclined): "My New Pink Button (tm) is a temporary dye to restore the youthful pink color back to your labia. There is no other product like it. This patent pending formula was designed by a female certified Paramedical Esthetician after she discovered her own genital color loss. While looking online for a solution she discovered thousands of other women asking the same questions regarding their color loss. After countless searches revealing no solution available and a discussion with her own gynecologist she decided to create her own. Now there is a solution!"
Comes in four shades: Marilyn ("the lightest of our colors; good for beginners who want to make a slight change fresh color change in their appearance or those who are very fair skinned"), Bettie ("This shade blends with a woman's own skin tones to bring out that 'sexy hot pink, I am fired up, look'"), Ginger ("will combine with darker skin tones to bring forth a real rosy tone"), and Audrey ("For the woman that loves to be daring, we bring you "Audrey"! This is the deepest, darkest color that we offer to give you a bold burgundy pink color. Perfect for everyone, and your own base color will determine the depth of this shade. Tonight its Show time!!").
What a wonderful way to honor our female icons—by appropriating their names to slap on a product designed to make women feel insecure about their vulvas.
I don't guess I need to mention that not every woman in the world has a pink vulva to begin with. (Or even a vulva at all.) There are many women—including many fair-skinned white women—whose vulvas are on the brown spectrum. Equating pink with whiteness and youth is flatly wrong.
But obviously a pretty common (and sinister) marketing ploy.
[H/T to
@alikichapple
.]