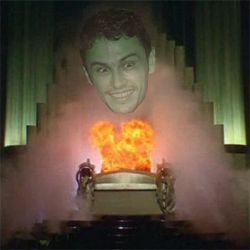 Of course Sam Raimi will be directing
Oz: The Great and Powerful
, because that is perfect director-choosing (no sarcasmo). And of course James Franco has been cast as the Wizard, no doy, because James Franco. He's practically a wizard in real life already.
Disney has staked out the weekend of March 8, 2013 to release the Sam Raimi-directed 3D Oz: The Great and Powerful. The film is still casting, but James Franco stars as the title character, with Mila Kunis playing Theodora, Michelle Williams in talks to play Glinda and Rachel Weisz in talks to play Evanora. The film begins production late July in Michigan. Franco plays the charlatan circus magician whose balloon is blown off course. It lands in Oz, where he's treated as a real wizard by the colorful citizens who see him as the man to rid the lands of a wicked witch.
I'll bet in this version, the Wicked Witch is a metaphor for SLEEPING.