Shaker
FilthyGrandeur
sent me this screencap announcing the break-up of two successful and well-known young actors: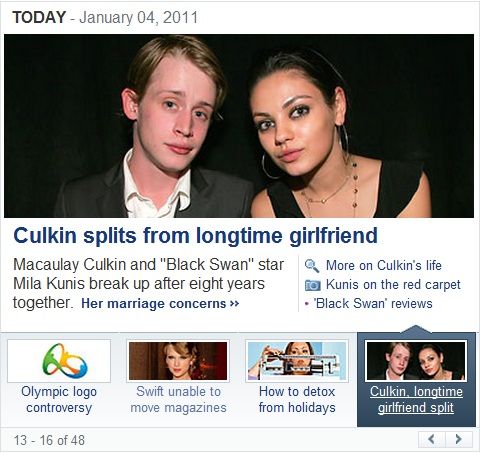 "Culkin Splits From Longtime Girlfriend"
"Longtime Girlfriend" Mila Kunis is one of the stars of a little movie you may have heard of called
Black Swan
, which is one of the most successful films currently playing in theaters.
Kunis also starred in the hugely popular sitcom
That '70s Show
for eight years and has been in numerous films, including the wildly successful (ugh)
Forgetting Sarah Marshall
.
Culkin, whose work in smaller films I quite like and am not intending to diminish, has not been in a box office hit since
Ri¢hie Ri¢h
in 1994. Yet he is still considered The Star, and she his (former) property.
For perspective, think how strange it would be if Demi Moore and Ashton Kutcher split, and the headline read: "Moore splits from husband."
That, of course, would be considered absurd.