Pittsburgh and the surrounding areas are digging out from the big snowstorm on Friday/Saturday. Snowfall totals around Allegheny County were between 15 and 23 inches. In Pittsburgh, we got 20 inches and Friday's 11.4-inch snowfall
beat the one-day total of 10.4 in
. It was 4 degrees Fahrenheit when I got up this morning, so this snow is not going anywhere on its own.
My internet connection was out for a day and a half this weekend, and another winter storm advisory takes effect tomorrow morning. So, in case I get cut off again, here are a few images from between snowstorms.
On Saturday morning, I awoke to find that my usual view of downtown Pittsburgh looked like this: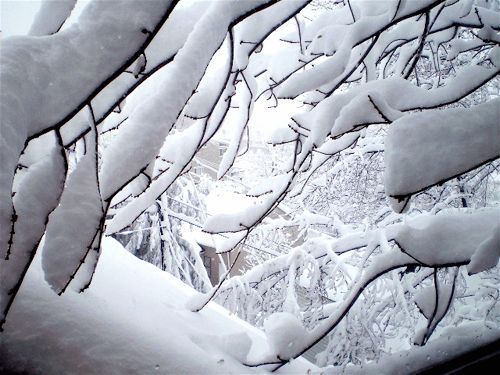 There was about 14 inches of snow on the roof next door, and the tree, which usually does not obscure the window at all, was bent all the way down to the neighbor's roof with snow.

My downstairs neighbors' deck as seen from my kitchen window.
Image description: A wooden deck with table and chairs, seen from a high angle. The table, chairs, and deck railing are covered in about a foot and a half of snow. Tree branches heavy with snow hang almost straight down toward the deck.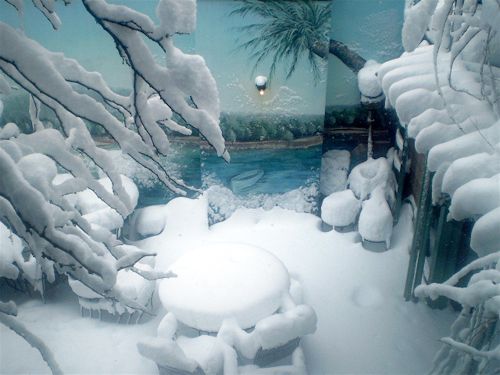 The patio of a local restaurant laden with snow. The palm tree just kills me! By luisma.
Image description: A high-angle shot of a restaurant patio with tables and chairs and a tree in the left part of the image. The restaurant roof is on the right. Everything is thickly covered in snow. On the far side of the patio is a mural of a blue sea and sky, a palm tree, and a small boat.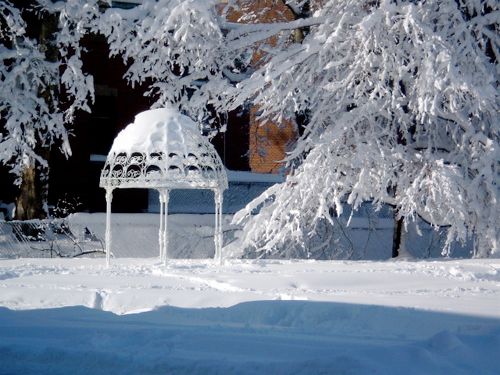 The gazebo outside the Carnegie Library of Pittsburgh South Side, half buried in snow. By luisma.
Image description: A decorative white metal gazebo with thin legs buried in snow. A snow-covered tree is to the right. A brick building is beyond the gazebo and tree.

The Birmingham Bridge from East Carson Street. By luisma.
Image description: A snow-covered sidewalk and street with no cars. A green arch bridge in the distance, flanked by snow-covered trees. Three figures walk toward the bridge.