Deeks: [
takes a picture of a ridiculous
Globe
cover story, featuring an image of President Obama coughing accompanied by a headline reading: OBAMA LUNG CANCER DRAMA, i.e. its usual unfounded bullshit reported in the most breathless and callous way.
]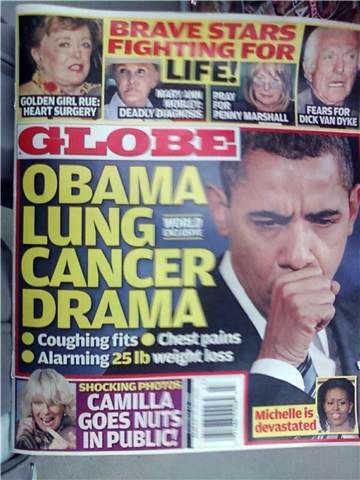 Liss: I love how it's a "drama."

Deeks: "How will it unfold???"

Liss: Quite the mystery!

Deeks: LOLOL!!!!

Liss: Another fine conversation brought to you by sarcasm.

Deeks: Never leave home without it.

Liss: Sarcasm: Accept no substitutes.

Deeks: The breakfast of champions.

Liss: Can't be smashed by a determined gorilla.

Deeks: LOL!

Liss: Oh wait—that's Samsonite, not sarcasm. Nevermind.

Deeks: Close enough.

Liss: Easy mistake to make as I associate both of them with my personal baggage.

Deeks: Ha!