In the latest
Gallup poll
, Americans' antipathy for the GOP has increased yet again, with only 34% saying they view the GOP favorably and 61% saying they view the GOP unfavorably, "the highest Gallup has recorded for that party since the measure was established in 1992."
Couldn't happen to a nicer party.
Here's the real fun, though:
The Republican Party heads into the New Year with its brand tattered by the election after decisive losses in the 2008 presidential and congressional races. Such a defeat inevitably leads to introspection in party circles about its message going forward.

Gallup addressed this issue in the recent poll with a question asking, "Over the next few years, would you like to see the Republican Party and its candidates move in a more conservative direction, a less conservative direction, or stay about the same?"

Most rank-and-file Republicans (59%) want to see the party move in a more conservative direction and another 28% want it to remain about the same. Only 12% would prefer to see the Republican Party become less conservative.
Awesome. So if the GOP moves left to try to appeal to independents (who now prefer the Dems by 15 points), they lose their base. And if they move right to try to hold onto their base, they lose independents. Either way, they lose any hope of electoral victory.
Titter.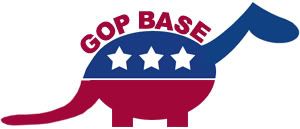 Good luck with all that.