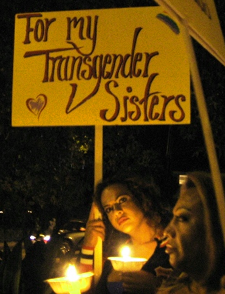 And brothers.
Today marks the
10th Annual Transgender Day of Remembrance
, which is set aside to memorialize those killed as a result of anti-transgender hatred or prejudice resulting from fear and ignorance. The event is held in November to honor Rita Hester, whose murder on November 28th, 1998 spawned the "
Remembering Our Dead
" online project and candlelight vigil.
This year, we
remember
:
Kellie Telesford
of Thornton Heath, UK,
Brian McGlothin
of Cincinnati,
Gabriela Alejandra Albornoz
of Santiago, Chile,
Patrick Murphy
of Albuquerque,
Stacy Brown
of Baltimore,
Adolphus Simmons
of Charleston,
Fedra
of Kota Kinabalu, Malaysia,
Ashley Sweeney
of Detroit,
Sanesha Stewart
of the Bronx,
Lawrence King
of Oxnard, CA,
Simmie Williams Jr.
of Fort Lauderdale,
Luna
of Lisbon, Portugal,
Lloyd Nixon
of West Palm Beach,
Felicia Melton-Smyth
of Porta Vallarta, Mexico,
Silvana Berisha
of Hamburg, Germany,
Ebony Whitaker
of Memphis,
Rosa Pazos
of Sevilla, Spain,
Juan Carlos
Aucalle Coronel of Lombardi, Italy,
Angie Zapata
of Greeley, CO,
Jaylynn L. Namauu
of Makiki Honolulu, HI,
Samantha Rangel Brandau
of Milan, Italy,
Nakhia Williams
of Louisville,
Ruby Molina
of Sacramento,
Aimee Wilcoxson
of Aurora, CO,
Duanna Johnson
of Memphis,
Dilek Ince
of Ankara, Turkey,
Teish Cannon
of Syracuse,
Ali
of Iraq, and all the other trans women and men around the world who lost their lives to transphobia this year, whose faces we never saw and names we never heard, because they were living on the margins of societies who did not respect nor want them.
Julia Serano, a trans activist and author of Whipping Girl: A Transsexual Woman on Sexism and the Scapegoating of Femininity, noted, in a post at Feministing last year, that transphobia kills not just by violent action, but apathetic inaction.

Trans people are often targeted for violence because their gender presentation, appearance and/or anatomy falls outside the norms of what is considered acceptable for a woman or man. A large percentage of trans people who are killed are prostitutes, and their murders often go unreported or underreported due to the public presumption that those engaged in sex work are not deserving of attention or somehow had it coming to them.

Some trans people are killed as the result of being denied medical services specifically because of their trans status, for example, Tyra Hunter, a transsexual woman who died in 1995 after being in a car accident. EMTs who arrived on the scene stopped providing her with medical care—and instead laughed and made slurs at her—upon discovering that she had male genitals.
Lacking federal employment protections, transgender men and women are at higher risk for lack of insurance, adding to the difficulty of securing routine medical care from welcoming practitioners. Transmen in particular can have trouble locating accommodating gynecological services for annual pap smears, risking undiagnosed cervical cancer. The great 2001 documentary Southern Comfort spans the last year in the life of Robert Eads, an FTM transsexual who died of ovarian cancer after two dozen doctors refused him treatment.

That's the kind of hate crime that doesn't make headlines. Or even federal hate crimes statistics.

Shaker Lena also emails, as I was writing this post:

On August 18, 2008 a Philadelphia judge acquitted Terron Oates of murdering of Alexis King and instead convicted him of voluntary manslaughter, apparently accepting his "trans panic" defense, i.e. he was provoked by discovering that King was biologically male (even though the area he picked up King was a known district for transsexual prostitutes). Oates defense attorney argued that King was shot while fighting Oates for his gun -- even though she was shot in the back and side. The lesser charge meant Oates could be release after only 30 days because of credit for time served. Also, in Yuma, AZ the killer of Amancio Morales plea bargained down an attempted manslaughter charge. Morales, was a 23-year-old female impersonator, who was dressed in as a women when he was killed by what police called "violent trauma" from numerous stab wounds and was found floating in the river. Court records said Morales killer became enraged when he realized the Morales was biologically male.

Also, a number trans people were attacked in apparent hate crimes, including: an unnamed "man dressed as a woman" in Miami was the victim of a drive-by shooting on Sept. 29. He survive the attack; in Sacramento on May 27, a man described by police as a skinhead attacked two transgender homeless people, stabbing one of them.

Finally, while this is the Transgender Day of Remembrance, let us also remember our LGB brothers and sisters who have been beaten and killed during the past year.
Indeed.

We remember all the victims of violence and apathy today. The rest of the year, I'll continue to advocate on behalf of my trans sisters and brothers, I'll continue to pay attention, I'll continue to challenge the gender norms deviation from which feeds into violent transphobia, I'll stand with you fiercely, my friends.

[Photo via LA IndyMedia's coverage of 2006's Day of Remembrance.]