So, if I were going to make an elaborate sign clumsily implying my political opponent was either a socialist, communist, totalitarian, fascist, and/or all of the above, the first thing I'd do is make sure I knew
how to correctly spell his bloody name
!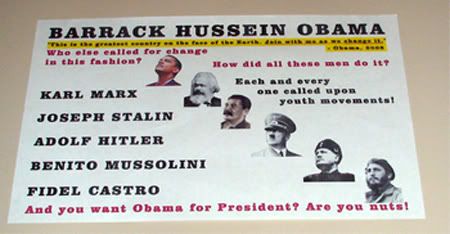 This stroke of graphical genius was
found hanging
in the John McCain campaign office in Pompano Beach, Florida, this week.
Considering that John McCain's been whining like a full-bladdered puppy all week about
being compared to George Wallace
, I'd love to hear what he has to say about someone in one of his campaign offices comparing Barack Obama to Stalin, Hitler, Mussolini, and Castro.
"
Respectful campaign
," bitchez.
(Thanks to Shaker Bokun59 for passing that along. And, btw, love the punctuation, too: "Are you nuts!" Yes I am?)
[Obama Racism/Muslim/Unpatriotic/Scary Black Dude Watch: Parts One, Two, Three, Four, Five, Six, Seven, Eight, Nine, Ten, Eleven, Twelve, Thirteen, Fourteen, Fifteen, Sixteen, Seventeen, Eighteen, Nineteen, Twenty, Twenty-One, Twenty-Two, Twenty-Three, Twenty-Four, Twenty-Five, Twenty-Six, Twenty-Seven, Twenty-Eight, Twenty-Nine, Thirty, Thirty-One, Thirty-Two, Thirty-Three, Thirty-Four, Thirty-Five, Thirty-Six, Thirty-Seven, Thirty-Eight, Thirty-Nine, Forty, Forty-One, Forty-Two, Forty-Three, Forty-Four, Forty-Five, Forty-Six, Forty-Seven, Forty-Eight, Forty-Nine, Fifty, Fifty-One, Fifty-Two, Fifty-Three, Fifty-Four, Fifty-Five, Fifty-Six, Fifty-Seven, Fifty-Eight, Fifty-Nine, Sixty, Sixty-One, Sixty-Two, Sixty-Three, Sixty-Four, Sixty-Five, Sixty-Six, Sixty-Seven, Sixty-Eight, Sixty-Nine, Seventy, Seventy-One, Seventy-Two, Seventy-Three, Seventy-Four, Seventy-Five, Seventy-Six, Seventy-Seven, Seventy-Eight, Seventy-Nine, Eighty, Eighty-One, Eighty-Two, Eighty-Three, Eighty-Four, Eighty-Five, Eighty-Six, Eighty-Seven, Eighty-Eight, Eighty-Nine, Ninety, Ninety-One, Ninety-Two, Ninety-Three, Ninety-Four, Ninety-Five, Ninety-Six, Ninety-Seven, Ninety-Eight.]