I can't even begin to tell you how tired of this series I am already... This is an actual "news photo"
published
by the AFP yesterday: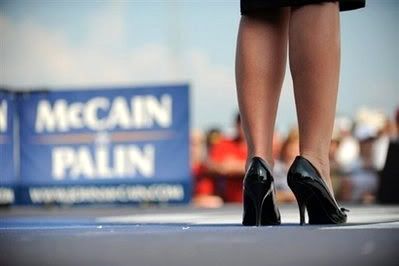 Now when was the last time I saw a photo like this of a serious national contender? Oh,
right
.
What makes this picture extra super-awesome is the caption that accompanies it:
Republican vice presidential candidate Alaska Governor Sarah Palin stands on stage during a campaign rally in O'Fallon, Missouri on August 31. Palin got comfortable in her new role as a vice presidential candidate as she made the Republican case to stay in power. (AFP/Robyn Beck)
She stands on stage? It's a picture of
her fooking legs
, not a picture of
her
. And you might think I'm making a pedantic distinction, except that I go through these daily photo dumps constantly, and if there's picture of a male politician in which his face isn't included, it almost always gets described like: "President George Bush's hand is seen waving to onlookers" or "The top of Senator Barack Obama's head is seen emerging from his campaign bus."
Their disembodied (
ahem
) parts are not called "George Bush" or "Barack Obama." But here, Palin's legs are described as "Alaska Governor Sarah Palin" full-stop. Curious, that.
And, aside from all that rubbish, let's face it—the picture is just appalling. And if you don't understand why, you're at the wrong blog. (Try
here
, for a start.)
[Sarah Palin Sexism Watch: Parts
One
,
Two
,
Three
,
Four
,
Five
. We defend Sarah Palin against misogynist smears not because we endorse her or her politics, but because that's
how feminism works
.]