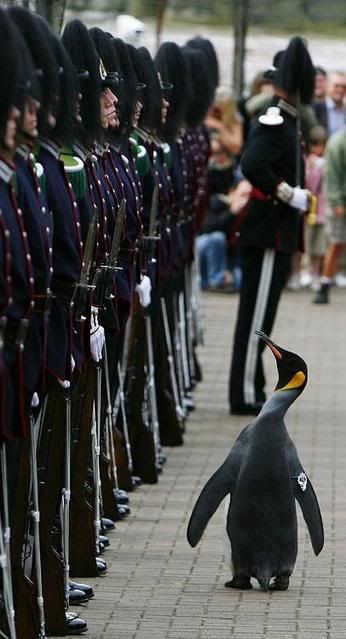 Sir Nils Olav
: SOLDIER!
Soldier: SIR!
Sir Nils Olav: WHAT IS THE KING'S GUARD FIFTH GENERAL ORDER?!
Soldier: SIR! THE GUARD'S FIFTH GENERAL ORDER IS TO... ER... THE COMMANDING OFFICER AND... SIR! I DON'T KNOW SIR!
Sir Nils Olav: YOU MAKE ME SICK, SOLDIER! NOW GIVE ME TWENTY... FISH!
Head below the fold for a news report of the knighting of said penguin. The best part is around 0:18 when he, rather convincingly, does a full troop inspection.