In "From the Mailbag,"
below
, I made a comment about how I fear we'll be hearing the same old despicable "trans panic" defenses for murder until we can significantly counter pervasive transphobia. That feels like a daunting task at times, too overwhelming to seem possible, but that's what
teaspoons
are for—and I don't guess I need to make much argument to the Shakers about the need for calling this shit out every time we see it; it's part of being
all in
.
Shaker Angela sent me this screen cap taken recently of AOL's front page: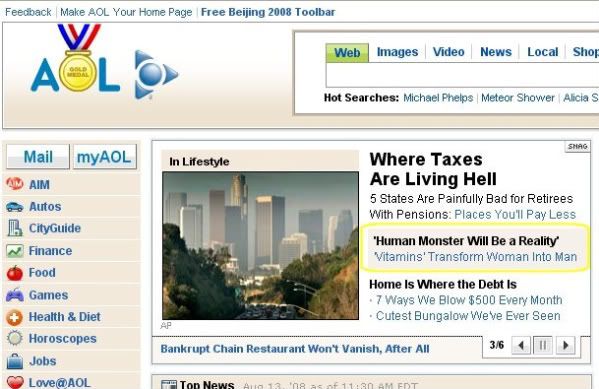 The headline links to an article (with video) about an East German trans man and former athlete who maintains rather incredibly that he became attracted to women and compelled to have a sex change because he was fed illegal steroids without his knowledge. There is no doubt that East German athletes were given steroids, with or without their informed consent, in the 1980s, and that many of them are suffering severe health consequences to this day because of them. I am, however, distinctly incredulous about the contention that steroids can provoke gender dysphoria—and I'm alarmed that CNN would run the piece without any hint of skepticism about the claim, or even a cursory caveat that it is an atypical trans experience.

Now back to that headline for a moment: The "human monster will be a reality" bit is pulled from a section of the story discussing the next generation of performance enhancements:

Experts say the next step for sportsmen and women looking for an illegal boost to physical performance could be gene therapy -- so-called "gene doping."

Sports physician Willi Heepe said gene therapy means the body will basically dope itself.

If that happens, "the human monster will be a reality," he told CNN.
Nothing to do whatsoever with trans men and women, and certainly nothing to do with the allegation that steriods can incite transgenderism. The story is really an incoherent mishmash of ideas—and, in trying to combine them, the headline on AOL's homepage conflates human monstronsity with being transgender, even as one trans person related to the story seems quite content with his choice, despite his bizarre rationale for it. As Angela notes, quite rightly: "The grouping of these phrases is not only misleading and sensationalist; it practically states that trans men are 'human monsters'."

Honestly, what a clusterfuck.

I don't even know what else to say, except to point out that this is further evidence for why journalists shouldn't be turning in stories on complicated subjects about which they know jack shit. The trans angle didn't even belong in this story. And that's to say nothing of whoever wrote the disastrous headline.