"We may have to sit through worse films to come this year, but with any luck, there'll be none as guilelessly, idiotically misogynist as this one."
—
Ella Taylor
, reviewing for the
Village Voice
Al Pacino's new film
88 Minutes
, which currently has a Metacritic
score
of
TWO
after five reviews, including Todd McCarthy's
Variety
review
in which he notes that
88 Minutes
"easily snatches from
Revolution
the prize as Al Pacino's career worst."
Sounds awesome!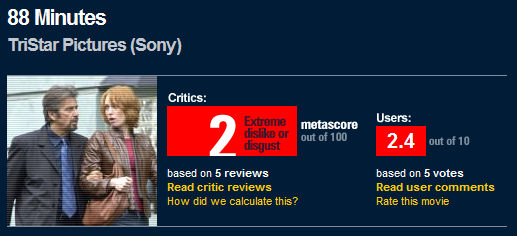 [H/T Mr. Shakes.]