Shoez. Shoez. Shoez.
OMG Shoez
.
Yes, I admit it, Pet and I spent an inordinate amount of time
drooling about shoes yesterday
. And this? "Sometimes, hell, all the time this election cycle, a pleasant superficial discussion keeps us sane." Is 100% spot-on. Also, having had a few days of abject fuckitallity recently, I decided it was worth a few bucks to get myself a nice new pair of saucy spring sandals. I almost never buy anything for myself Just Because, so on the rare occasions I do, it makes me inordinately happy.
Especially if they happen to perfectly match my favorite pink cardigan, look great with my favorite boot-cut jeans, and prove surprisingly comfortable.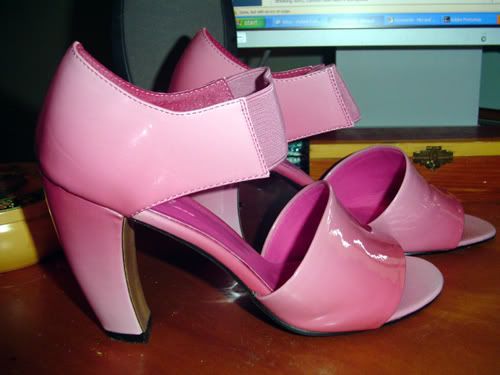 Hello, my pretties.