The oh-so-hip
Seattle Times
has
refused to run an ad
for two performances of
The Vagina Monologues
because the co-sponsors of the event would not accommodate their request to change the artwork to something more "appropriate."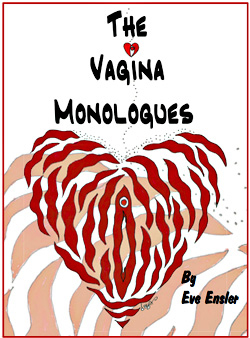 So much for
the horror of nothing to see
.
Hilariously, the scandalous inclusion of an oblique clitoris did not "stop Temple B'nai Torah and several area synagogues from prominently displaying a poster with the artwork in question in their places of worship."
'"The artwork was created by a member of my congregation," said Rabbi Yohanna Kinberg of B'nai Torah. "We have it hanging in several places in our Temple. I was just very disappointed that the Times didn't share our appreciation for what I consider to be tasteful and beautiful artwork."
Eh, what does she know? No self-respecting religion lets
wommenz
be leaders, anyway!