The
Kiwi adventurer
, one of the first two known people, alongside Nepalese Sherpa Tenzing Norgay, to conquer Mount Everest, has died at age 88: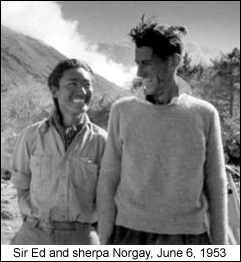 The gangling New Zealander devoted much of his life to aiding the mountain people of Nepal and took his fame in stride, preferring to be called "Ed" and considering himself just an ordinary beekeeper.

"Sir Ed described himself as an average New Zealander with modest abilities. In reality, he was a colossus. He was an heroic figure who not only 'knocked off' Everest but lived a life of determination, humility, and generosity," [New Zealand Prime Minister Helen Clark] said in a statement.

…Hillary didn't place himself among top mountaineers. "I don't regard myself as a cracking good climber. I'm just strong in the back. I have a lot of enthusiasm and I'm good on ice," he said.
[1,000 points to the first Shaker who can bring back a link to a winger making a "Hillary's dead—no, not
that
Hillary, unfortunately!" joke.]