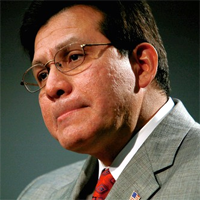 Don't cry for me, oh Amer'ca,
The truth is I never left you.
Now after my wild lies,
My truth resistance,
I need mad dollahz—
Don't keep your distance!
Supporters of former attorney general Alberto R. Gonzales have created a trust fund to help pay for his legal expenses, which are mounting in the face of an ongoing Justice Department investigation into whether Gonzales committed perjury or improperly tampered with a congressional witness.

…"In the hyper-politicized atmosphere that has descended on Washington, an innocent man cannot simply trust that the truth will out," [David G. Leitch, a Gonzales friend and general counsel at the Ford Motor Co., wrote in an e-mail solicitation to potential contributors last month]. "He must engage highly competent legal counsel to represent him. That costs money, money that Al Gonzales doesn't have."
Because he was just a poor civil servant, making a six-figure salary.
Please, won't somebody call the
waaaaaaaaaaaaaaaaa
mbulance for poor, broke, little Gonzo?