I mean, even if I
wanted
to wage a war on Christmas, what could I possibly do that the Jesus Tree Topper sold by the
Christian Dollar Store
hasn't already done?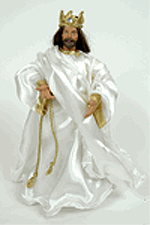 Top your Christmas tree with this Jesus tree topper, and remember the real meaning of Christmas. If I be lifted up I will draw all men unto Me. It is truely beautiful. Top quality, real silk gown, made of resin, nail prints in hands, and 12" tall. Lights up when plugged in. King of Glory. Hollow in center. Not sold anywhere else, our own patented design. Can be used all year round, even Easter.
Says
Petulant
, to whom goes the tip of my hat, "What says the holidays like a
HOLLOW
Jesus with
nail
prints and dressed in silk robes. He lights up too! Not to mention he is a year round Jesus for when I am feeling really heathen."
Spectacular!
While perusing my new favorite online store, I came across
another product
that I love almost as much as the Jesus Tree Topper, mostly for its service as a perfect example of why punctuation matters.
The "Smile, Jesus Loves You" Sucker, because Smile Jesus loves you, sucker.