Bush Pushes for More Abstinence Only Funding
: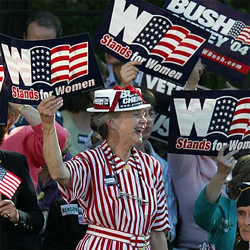 President Bush is pushing for more funding for abstinence only programs even as a Congressional study shows they are ineffective. The US has spent about $1 billion on failed abstinence-only sex education programs over the past decade and President Bush proposes a 2008 budget of $204 million for such programs, reports Women's eNews.

In fact, a November 7th study by the National Campaign to Prevent Teen and Unplanned Pregnancy showed that programs that combine abstinence and contraception were most effective.
W Stands for
Women
We Don't Give a Fuck What Your Stupid "Science" Says.
Let us take just a brief moment to acknowledge the utter absurdity of a president who tacitly encourages teen and/or unplanned motherhood—i.e. the birth of children most likely to be born into poverty, without healthcare coverage, and most in need of government services—while simultaneously
refusing to expand
the very programs that provide the services those children and their parents are likely to need, using as a justification the straw-specter of welfare queens re-imagined for the new millennium, like parents who will
use SCHIP as a substitute for private health coverage
.
You know, this shit, right here, would be why crazy, long-haired hippie liberal types, ahem, say things like "Republicans want more babies so they have plenty of soldiers for their wars"—because promoting abstinence-only sex education despite mountains of evidence that it doesn't work, which will inevitably create more of the families otherwise held in contempt, is totally inexplicable.